Mother sends thank-you letter to deputies who arrested her daughter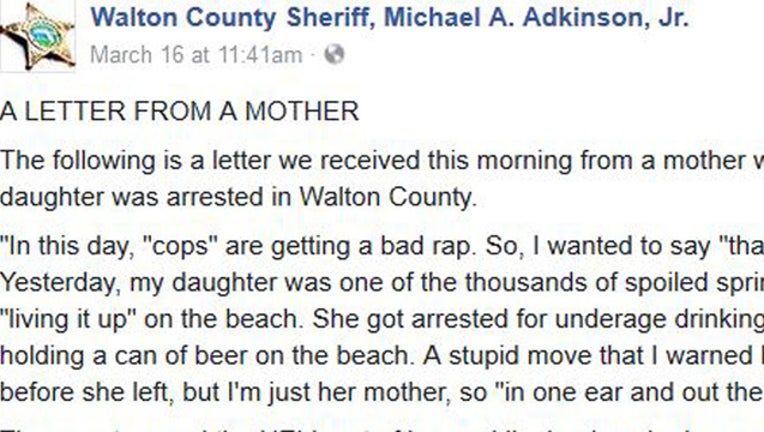 article
DEFUNIAK SPRINGS, Florida (FOX 26) - A Florida sheriff shared a thank you letter he says was sent by the mother of a daughter who was arrested by deputies during spring break.
In the letter sent to the Walton County Sheriff's Office, the mother says her daughter was arrested for underage drinking during spring break, something she warned her daughter against, and it took being arrested for the girl to learn her lesson.
"She was holding a can of beer on the beach. A stupid move that I warned her about before she left, but I'm just her mother, so 'in one ear and out the other'," the letter says.
The woman says she is extending her thanks because the deputies were kind, assured the mom her daughter would get home safe, and gave her peace of mind even though she was hours away.
"The reason that I am sending this is that every officer that I talked to or that I could hear in the back ground talking to her was so nice! Firm, but nice," the letter says. "I'm sure each one was rolling their eyes when my daughter said "Can you talk to my mom?", but each and every officer was respectful and assured me she would get back to her house safely.
She ended the letter saying, "They say you always have one child that makes you go grey early and she is mine! Thank you for saving me a few more grey hairs last night."