Maryland girl, 9, catches 94.6-pound fish, sets state record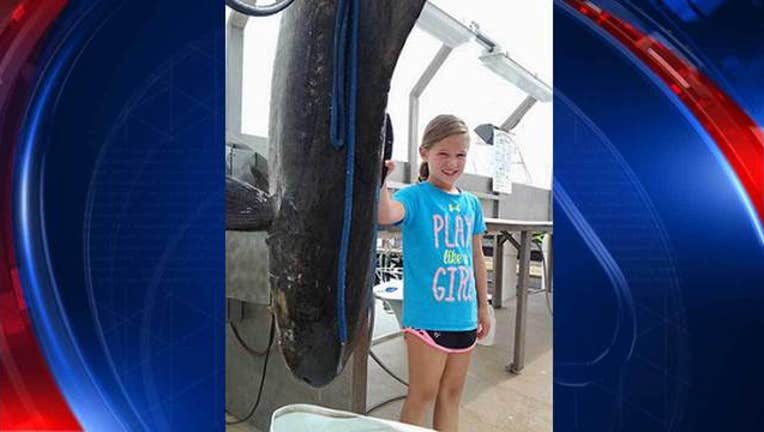 article
A 9-year-old Maryland girl has set a state record for a 94.6-pound fish she caught nearby Assateague Island.
Emma Zajdel and her father were fishing along with two family friends, Robert and Ashton Clark, near Little Gull Shoals about a mile and a half east of Assateague Island on June 30, according to the Maryland Department of Natural Resources.
The group was trolling two fishing lines from their boat searching for bluefish when one of the lines became tight. Young Emma was then given the rod.
"At first, we thought it was a shark, and the line was going out." Emma said. "I could hear the reel and the drag and I thought I could go over the side."
After a 20-minute battle with a fighting belt on, the Ocean City girl was able to reel in the large cobia fish.
"I kept the boat in gear and followed the fish at a 45-degree angle to keep the line tight and Emma settled," said Emma's father, Ed. "When she got the fish in and we lifted it on board, it went ballistic. Emma and Ashton scurried to the front of the boat while Robert and I wrestled the fish into the fish box and iced it down."
The following day, a department fisheries biologist confirmed the 94.6-pound and 66.5-inch long catch, which was even longer than Emma. The 9-year-old only stands 52 inches tall.
The previous Maryland record for a cobia fish caught was set back in September 2014. Jack Latimer, of Potomac, Md., caught a 79-pound cobia about a mile and a half east of the inlet.
According to Maryland natural resources officials, "Emma's catch could become a new International Game Fish Association Small Fry World Record for a fish caught by an angler under the age of 10." The current record is 48 pounds.