Man arrested after hidden camera found in Royal Caribbean cruise ship bathroom: FBI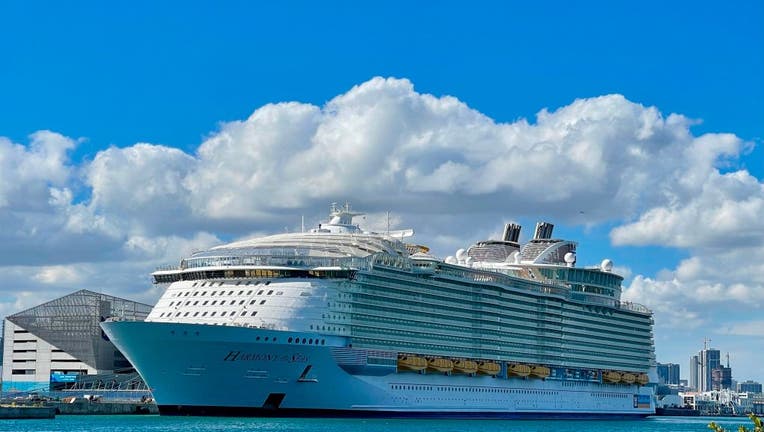 article
A cruise passenger was arrested last week after FBI officials say he installed a hidden camera in a public bathroom of a Royal Caribbean ship and recorded more than 150 people, including at least 40 minors. 
Jeremy Froias faces charges of video voyeurism and attempted possession of child exploitation material, according to court documents. 
An FBI affidavit states that Froias boarded the Harmony of the Seas cruise ship in Miami April 29. The seven-day cruise operated by Royal Caribbean was set to make stops in St. Maarten, San Juan and the Bahamas before returning to Miami.
About a day after the ship set sail, Froias allegedly installed a hidden Wi-Fi camera in a public bathroom on the aft part of Harmony's top deck, according to the criminal complaint. 
MAN'S BODY STORED IN DRINK COOLER AFTER HE DIES ON CELEBRITY CRUISE: LAWSUIT
"At about 7:00 p.m. on May 1, 2023, another passenger noticed the hidden camera and reported it to the Harmony's crew. Harmony security personnel searched the bathroom and found and seized the hidden camera," an FBI special agent said in the complaint. 
This photo depicts the bathroom where a hidden camera was discovered on the Harmony of the Seas cruise ship. (FBI / Fox News)
Royal Caribbean security noticed a micro SD card in the camera and reviewed the data, finding "several hours' worth of .mp4 video files," the agent said. 
The first videos allegedly showed Froias setting the camera up and adjusting its angle to get a view of the toilet. Froias was recorded connecting his iPhone to the hidden camera using Wi-Fi, the affidavit states. 
Subsequent videos showed more than 150 individuals entering the bathroom to use the toilet or to change into or out of swimwear. Some victims were recorded naked, including children as young as 4 or 5 years old, according to the complaint.
PRINCESS CRUISES OPENS SALES FOR ITS LONGEST EVER WORLD VOYAGE
Froias allegedly admitted to placing the hidden camera in the bathroom during an interview with security personnel. 
He was arrested Wednesday, court records show. 
The FBI is asking for the public's help in identifying the victims. The bureau has a webpage where victims may file a report. 
"The FBI believes he primarily targeted cruise ship passengers between the timeframe of April 30 and May 1, 2023, who may have used the public bathroom on the aft of the Harmony's top deck between the 'Flow Rider' surfing simulator and a bar. Passengers using this bathroom may have been video recorded by Froias," the FBI said 
ROYAL CARIBBEAN SHARES SLIDE FOLLOWING REFUND FIASCO
Authorities are encouraging anyone who thinks they were victimized or who may know someone who was victimized to file a report. 
GET FOX BUSINESS ON THE GO BY CLICKING HERE
Royal Caribbean did not immediately respond to a request for comment. 
An attorney for Froias did not respond when contacted. 
Read more of this story from FOX Business.