Labrador dog named Lucy saves man from sex conviction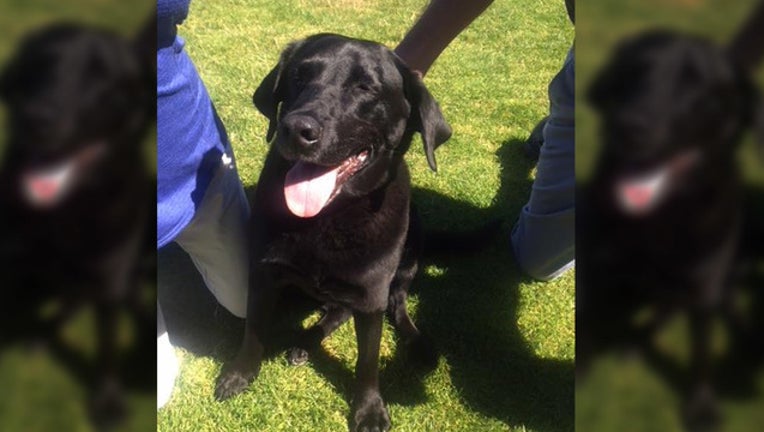 article
SALEM, Ore. (AP) - The discovery of a black Labrador named Lucy led to the unraveling of a criminal case Monday against an Oregon man who had begun serving a 50-year prison sentence.
Joshua Horner, a plumber from the central Oregon town of Redmond, was convicted on April 12, 2017, of sexual abuse of a minor.
In the trial, the complainant testified Horner had threatened to shoot her animals if she went to the police about the alleged molestation, and said she saw him shoot her dog and kill it to make his point.
Six months after a jury convicted Horner in a verdict that was not unanimous, he asked the Oregon Innocence Project for help. The group took up his case.
When the group raised concerns in April about the case with Deschutes County District Attorney John Hummel, he agreed to work with them.
Horner had insisted he never shot the dog. Finding the dog would show the complainant had lied under oath. But if it was alive, where was it?
An Oregon Innocence Project volunteer and an official from Hummel's office searched for it. The black Lab had reportedly been given away. The investigators were sniffing on the trail, but they had trouble tracking down the purported dog's owner.
"They made a couple trips around Deschutes County; he was not there," said Steve Wax, legal director of the Oregon Innocence Project. "We heard he was in Seattle. Then we learned he had a place on the Oregon Coast."
It was there, in the town of Gearhart northwest of Portland, that the pair finally found Lucy after her owners agreed to rendezvous at a golf course.
"She was drinking a bowl of water and sitting in shade underneath a porch. We played with her. Petted her. It was wonderful," said Lisa Christon, the Oregon Innocence Project volunteer.
Lucy was identified by an undisputed chain of custody and her looks.
"She's a very distinctive-looking black Lab; not purebred. She's got this adorable shaped head and really long ears," Christon said.
That key evidence showed the complainant had not been truthful when testifying, the district attorney said.
"Lucy the dog was not shot. Lucy the dog is alive and well," Hummel's office said in a statement.
Hummel told the court Monday he's not certain that Horner did not sexually abuse the complainant, but that he's now not convinced he did. The Associated Press is not naming her because it typically does not identify alleged victims of sexual abuse.
Deschutes County Judge Michael Adler dismissed the case.
Horner, in a statement released by the Oregon Innocence Project, thanked the group, his family, friends and Hummel.
"Kelli and I are ready to pick up the pieces of our lives," Horner said, referring to his wife. The couple came out of the courthouse Monday holding hands and smiling.
Horner had walked out of a state prison in Pendleton on Aug. 3 after the Oregon Court of Appeals reversed his conviction and ordered a new trial. The appeals court said the defense had not been allowed to present certain evidence that was unrelated to the dog.
Now, Horner no longer faces that second trial. He declined a request for an interview, saying he is not ready to speak with the media yet
After Lucy was found, the complainant failed to attend a meeting in August to discuss her testimony, Hummel said. Last Wednesday, one of his investigators heard she was at a home near Redmond. When he pulled up to the driveway, she ran away.
Horner had been indicted under a previous district attorney, but the trial and conviction came under Hummel's watch.
Hummel said in an email the issue of the dog being shot was raised for the first time during the trial, so there was no investigation to be done regarding it prior to trial, "and we had no credible reason to question the statement after it was made."
He said exonerations are a reminder that while the U.S. has "the best system of justice in the world it is not perfect. Mistakes will be made and we should be judged by how we respond to them."
Wax, who was Oregon's former top federal public defender for 31 years before joining the Oregon Innocence Project, said the case is highly unusual.
"To be able to establish that a person should not have been convicted, you need something objective," Wax said in a telephone interview. "In most child sex abuse cases, there is no evidence. Finding Lucy alive showed the complainant lied under oath in her testimony."
It was the first exoneration for the Oregon Innocence Project, launched in 2014 to exonerate the wrongfully convicted and promote legal reforms.
Wax praised Hummel for his willingness to re-examine the case.
"Nationwide, what Mr. Hummel did was unusual," Wax said. "It is to be commended. It should be the model."
___
Follow Andrew Selsky on Twitter at https://twitter.com/andrewselsky