Kavanaugh denies accusations from third accuser, saying they're from 'Twilight Zone'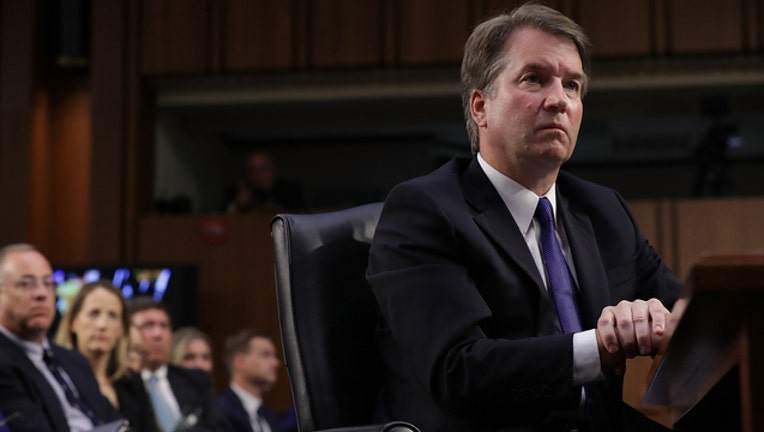 article
The lawyer for Stormy Daniels came forward with a new allegation on Wednesday, tweeting a formal declaration from a woman who is accusing Supreme Court nominee Brett Kavanaugh of more sexual misconduct in the 1980s, specifically saying he was present during a "gang rape" where she was a victim.
Kavanaugh and his supporters, including President Trump, deny the allegations and publicy criticized attorney Michael Avenatti, who produced the third witness.
Avenatti tweeted four pages of a declaration from Julie Swetnick of Washington, D.C., who said she holds four active clearances with the federal government, and who asked for privacy and no followup media interviews. KTVU has not had a chance to speak with Swetnick or vet her claims, other than reading her declaration. 
In her statement, Swetnick wrote that  she first met Kavanaugh and his friend, Mark Judge, in 1980 or 1981, when she was in high school and attended "well over ten house parties" with both of them present. She witnessed both of them "drink excessively and "engage in highly inappropriate conduct. She said the two of them did not take "no" for an answer, her declaration states.
She wrote she witnessed Kavanaugh "engage in abusive and physically aggressive behavior toward girls, including pressing girls against him without their consent, grinding against girls and attempting to remove or shift girls' clothing to expose private body parts." 
She said that during those years, she became aware of efforts by Kavanaugh and Judge to spike the punch at parties to "target particular girls," and get them drunk so they could be "gang raped" in a side room.
In 1982, when she was at Gaithersburg High School in Maryland, she also said that she became a victim of one of these "gang" or "train" rapes where Kavanaugh and Judge were present. She wrote she has a "firm recollection of seeing boys lined up outside rooms at many of these parties waiting for their turn with a girl inside the room. These boys included Mark Judge and Brett Kavanaugh."
She wrote that she was incapacitated, perhaps drugged with Quaaludes, and was "unable to fight off the boys raping me." 
Swetnick did not identify who allegedly raped her. She also did not specifically accuse Kavanaugh or Judge of raping her, or physically assaulting her in any way, in her declaration. 
She said that Kavanaugh's declaration of "innocence" and lack of sexual inactivity in high school on Fox News is a lie. 
KTVU emailed Kavanaugh's attorneys on Wednesday and did not immediately hear back.
Fox News Chief White House correspondent John Roberts tweeted that he received a statement from Kavanaugh who said Swetnick's allegations are "ridiculous and from the Twighlight Zone. I don't know who this is and this never happened." The Associated Press also received that statement.
Kavanaugh has also "categorically denied" allegations made by his other two accusers: Christine Blasey Ford and Deborah Ramirez.
Ford, a Palo Alto psychology professor, has alleged that a drunken Kavanaugh sexually assaulted her when both were teenagers, in an interview first reported by the Washington Post.
The second accuser,  Ramirez, a classmate of Kavanaugh's at Yale University, told the New Yorker magazine that he exposed himself to her at a party when they were both first-year students.
In written testimony for Thursday's Senate hearing where both he and Ford will testify,  Kavanaugh acknowledged drinking in high school with his friends, but said he's never done anything "remotely resembling" the sexual misconduct alleged by his chief accuser.
Kavanaugh denied having a "sexual or physical encounter of any kind" with Ford.
"I am innocent of this charge," Kavanaugh said, according to his written opening statement.
Kavanaugh added he has "never sexually assaulted anyone —not in high school, not in college, not ever."
Kavanaugh and President Trump, along with other supporters including Sen. Orrin Hatch, have called this attack on Kavanaugh a political "smear" campaign.
Avenatti, the lawyer who represents adult film actress Stormy Daniels, has made it clear he is exploring a bid for the Democratic presidential nomination. He is an ardent Trump critic and he makes frequent appearances on cable television.
Trump, on Twitter, attacked Avenatti of being a third-rate lawyer, who is "good at making false accusations."
The Associated Press contributed to this report.