J.J. Watt becomes an official ambassador U.S menswear company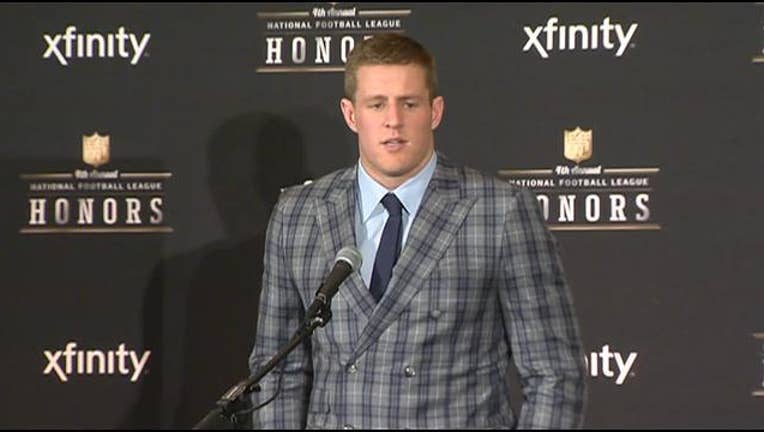 HOUSTON - Mizzen+Main, an American-made menswear company announced today Houston Texans defensive end J.J. Watt as an official ambassador of the brand. Watt, who was a first round pick in the 2011 draft and is one of the hottest players in the NFL, discovered Mizzen+Main's performance dress shirts organically and became hooked on the brand.
"Mizzen+Main came into the picture and really changed everything. With a dress shirt that keeps me cool and moves easy, I finally have the proper clothes for when I go on a road trip with the team or nice dinner or function," said Watt. "When it's time to dress up in something a little bit more than a football uniform, my go to is Mizzen+Main."
Inspired by modern athletic wear, Mizzen+Main shirts are designed to blend class and comfort to create high-performance apparel for the active professional. Made from moisture-wicking fabric, the shirts feature a four-way stretch, are machine-washable, and do not need to be dry-cleaned or ironed.
"J.J. is an incredible athlete who works as hard off the field as he does on," said Kevin Lavelle, cofounder and CEO of Mizzen+Main. "J.J. is both humble and the hardest working man in the NFL with a relentless focus on performing at the highest level of the sport. All the while, he is a family man who gives back to his community and seeks to make everyone around him better. J.J. embodies everything that we stand for as we build the next great American brand. We are proud to manufacture apparel at the intersection of advanced performance and classic style, exceeding the expectations of elite athletes like J.J. and modern men everywhere."
In addition to Mizzen+Main's signature moisture-wicking, wrinkle-free dress shirts, the company also boasts a collection of performance henleys, polos, blazers, denim, and soon to be released chinos. It remains committed to American manufacturing and giving back to the veteran community in a myriad of ways.
Mizzen+Main apparel is available online and at over 100 retail locations nationwide. For more information, visit MizzenandMain.com.
About Mizzen+Main
Mizzen+Main is brings innovation to classic menswear. Founded in 2012, the brand is best known for their performance dress shirt, made from moisture-wicking, wrinkle-free fabric that washes and wears exceedingly well. The brand also features performance henleys, blazers and denim. All Mizzen+Main apparel is proudly made in the United States. Based in Dallas, Mizzen+Main is privately held, funded by influential investors, entrepreneurs, and business leaders. Mizzen+Main apparel is available online and at over 100 retail locations nationwide. For more information, visit MizzenandMain.com.