Hurricane Lane now at Category 4, continues towards Hawaii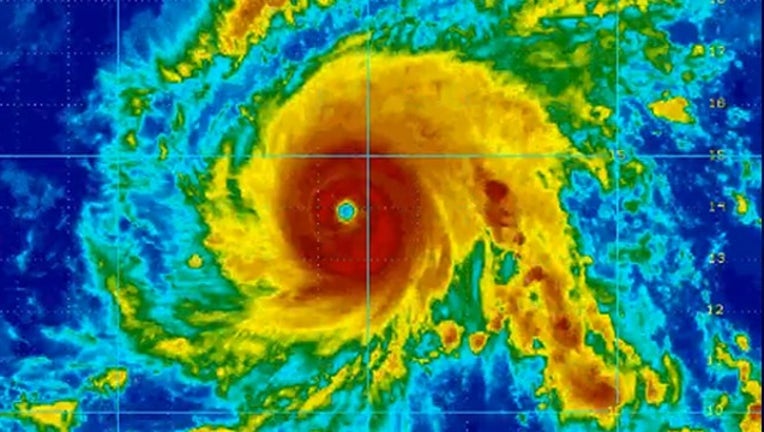 article
HONOLULU (AP) - The National Weather Service says that Hurricane Lane headed toward Hawaii has been is now a Category 4 hurricane and that some weakening of the storm is forecast over the next two days.
The weather service said Wednesday that the hurricane's maximum sustained winds are near 155 mph (250 kmh) with higher gusts.
The service says the hurricane is still forecast to be a dangerous hurricane as it gets closer to the islands.
___
5:30 a.m.
The National Weather Service says the hurricane warning in effect for Hawaii's Big Island has been extended to the island of Maui.
National Weather Service meteorologist Melissa Dye says Hurricane Lane was 320 miles (515 kilometers) southeast of Hilo shortly before 5:30 a.m.
She says the hurricane is moving northwest at about 9 mph (15 kph).
Dye says rain associated with the hurricane has started to show up on radar off the Big Island of Hawaii and offshore buoys are detecting higher than normal waves.
The weather service says tropical-storm-force winds could begin as early as Wednesday afternoon or evening on the Big Island.
___
4 a.m.
Hawaii residents rushed to stores to stock up on bottled water, ramen, toilet paper and other supplies as they faced the threat of heavy rain, flash flooding and high surf as a strengthening hurricane continued to churn toward the state.
On Tuesday night, the National Weather Service announced that Hurricane Lane had become a Category 5 hurricane, which means that it is likely to cause catastrophic damage with winds 157 mph or above. The hurricane is about 500 miles (804 kilometers) southeast of Honolulu.
Earlier Tuesday, the weather service issued a hurricane warning for Hawaii island and a hurricane watch for Oahu, Maui and other smaller islands, meaning tropical storm-force winds, excessive rain and large swells could arrive starting Wednesday.
Hurricane Lane "is forecast to move dangerously close to the main Hawaiian islands as a hurricane later this week, potentially bringing damaging winds and life-threatening flash flooding from heavy rainfall," the weather service's Central Pacific Hurricane Center warned as it got closer to the state.
The storm had been moving west, but it is expected to turn northwest toward the state Wednesday. There's uncertainty to Lane's path - whether it moves north or south, meteorologist Gavin Shigesato said.