Hundreds rescued in North Carolina city as waters rose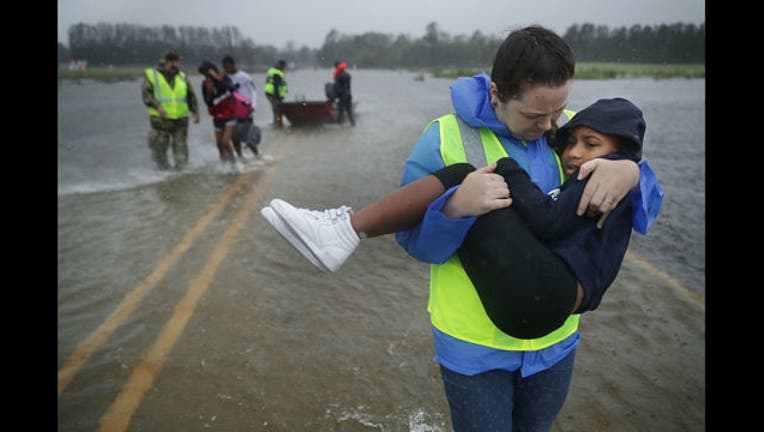 article
Tamara Lush (AP) - City officials in one North Carolina community sent out an ominous tweet sometime around 2 a.m. Friday. It came as rivers swelled, tides crested and the rain wouldn't stop. And that's when people found themselves trapped in their homes as the water rose.
"WE ARE COMING TO GET YOU," tweeted the city of New Bern. "You may need to move up to the second story, or to your attic, but WE ARE COMING TO GET YOU."
Tom Ballance said his wife went to Atlanta and he stayed behind in their New Bern home with their three dogs and a cat. At around 3:30 p.m. Thursday, the electricity went out. By midnight, his rain gauge showed that he'd gotten 9 inches (23 centimeters) of rain since mid-afternoon. He drifted off to sleep. About 40 minutes later, he woke and went to a sun room, where he'd boarded up all the windows except for a small hole. He shone a flashlight through the glass.
"I about jumped out of my skin," he told The Associated Press in a telephone interview Friday morning. "These were waves crashing down."
Those waves were coming from the Neuse River, which is about 25 feet (7.6 meters) away, and downhill, from his house. He made a plan B: if the water reached the house, he'd take the pets upstairs to the second floor.
"The water kept rising and kept rising," he said.
But the water never quite made it to his home. Ballance called the rainfall "biblical," saying he's gotten reports from friends that his downtown seafood restaurant was flooded, just like the rest of the small city's historic downtown, and he's worried about the hundreds of people who needed to be rescued overnight in the city.
New Bern Mayor Dana Outlaw told The Herald-Sun around 5 a.m. that about 200 people had been rescued so far.
City spokeswoman Colleen Roberts said in an interview with the AP around 10:30 a.m. Friday that about 120 others were still awaiting help. There had been no reports of fatalities or injuries so far, she said.
"We've planned for this. We knew it was coming, and we're working very hard to keep our citizens safe," Outlaw said. "We were able to evacuate quite a few; some did not go," he said.
The city of 29,000 that's near the North Carolina coast is surrounded by two rivers on the east and south. When Hurricane Florence started battering eastern North Carolina with record rainfall, the Neuse and Trent rivers began to swell - and combined with high tide, made for dangerous flooding and dramatic rescues.
The city had over 1,200 911 calls in a 12-hour span, said Roberts. She added that preliminary estimates show around 4,300 residences and 300 commercial buildings had been damaged but emphasized that count is expected to increase significantly.
The National Hurricane Center said there was more than 10 feet (3 meters) of inundation in New Bern.
Craven County spokeswoman Amber Parker said water in low-lying places filled the first and second floors of homes.
"This storm has been hovering over us for a while, and we expect it to continue to hover over us," she told the newspaper. "Lots of water, lots of wind, lots of storm surge."
Residents reached out for help through the night by phone and on social media.
"It's still going on, it's unbelievable. I stayed here. I'd been through so many hurricanes," said Balance, who added that six sheriff's officers came to his house to rescue him Friday morning, but he didn't need to leave since the tides and river were receding. "I tell you what. I feel like the dumbest human being who ever walked the face of the earth."
___
Associated Press writer Sarah Rankin in Richmond, Virginia, contributed to this report.
___
For the latest on Hurricane Florence, visit https://www.apnews.com/tag/Hurricanes