Huge waves slam into Puerto Rico, force evacuations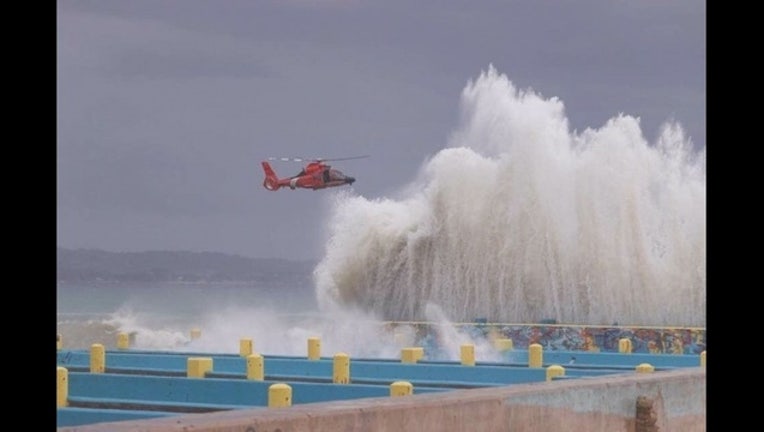 article
SAN JUAN, Puerto Rico (AP) - Waves nearly 30 feet high from a U.S. winter storm slammed into Puerto Rico on Monday, forcing authorities to evacuate dozens of families and close roads and schools across the U.S. territory.
Huge waves downed palm trees, knocked over cement benches and forced curious crowds to flee as saltwater flooded streets and homes along Puerto Rico's northern and western coasts. More than a dozen streets remained closed, along with several beaches and two dozen schools in low-lying areas, a move that affected more than 6,000 students.
The swell is the largest to hit Puerto Rico in more than a decade, and it is generating waves bigger than those produced by Hurricane Maria when it hit nearly six months ago as a Category 4 storm, said Gabriel Lojero, a meteorologist with the National Weather Service in San Juan.
"It continues to be very dangerous," he told The Associated Press.
The U.S. Coast Guard said it rescued an unidentified boogie boarder who apparently broke his wrist while surfing Sunday along Puerto Rico's northwest coast. Government officials said another three people were rescued from a flooded motel in the northern town of Hatillo.
The heavy swell also destroyed several docks and part of a government-owned boat terminal in Catano that provides ferry service to the historic part of Puerto Rico's capital known as Old San Juan. Ferry service to the popular nearby islands of Vieques and Culebra also was cancelled.
The ongoing damage comes as Puerto Rico struggles to recover from Hurricane Maria, which caused up to an estimated $94 billion in damage. Forecasters said the swell also is affecting the U.S. Virgin Islands and is expected to last through Wednesday.