Houston Texans defensive end Clowney #TurningTrashIntoTreasure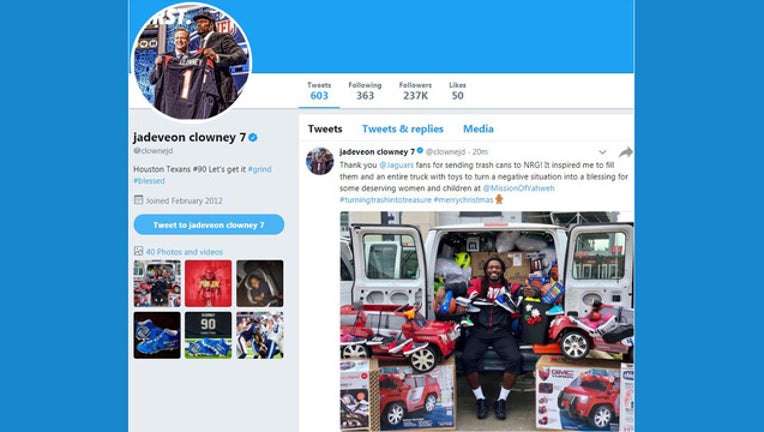 article
HOUSTON (FOX 26) - Houston Texans defensive end Jadeveon Clowney was the subject of a Twitter Moment after he referred to Jacksonville Jaguars quarterback Blake Bortles as "trash." Jaguars fans did their part to defend their franchise quarterback by sending trash cans to NRG Stadium, addressed to Clowney. Not one to overlook a moment to help his adopted Houston-area community, Clowney has turned the tables on the passionate Jaguars fans.
In a post on both his Twitter and Instagram accounts, Clowney posted the following:
Thank you @Jaguars fans for sending trash cans to NRG! It inspired me to fill them and an entire truck with toys to turn a negative situation into a blessing for some deserving women and children at @MissionOfYahweh #turningtrashintotreasure #merrychristmas
The charitable effort follows Clowney's selection on Tuesday to the 2018 Pro Bowl, the second time in his four-year NFL career. He will join his Texans teammate DeAndre Hopkins in Orlando for the annual game that precedes the Super Bowl.