Suspect in custody after Houston police chase that led to hourslong standoff in Brazoria Co.
ALVIN, Texas - A SWAT standoff has ended in Brazoria County after a motorcyclist led authorities on a police chase from the Heights on Thursday. 
Houston Police say they received a call about a theft in progress in the 1500 block of Northwood at 12:35 p.m. Thursday.
CLICK HERE FOR MORE ON POLICE CHASES
Officers arrived to the scene and attempted to conduct a traffic stop on the suspect. However, the suspect, later identified as Reece Dean Crisp, 35, sped off on a motorcycle, leading them on a chase.
Crisp led them south on Highway 288 to Rosharon, where they turned onto FM 1462 toward Alvin.
Authorities said Crisp was driving at high rates of speed, so HPD pulled back and used aerial support to track him. 
SkyFOX was over the chase when Crisp disappeared onto a property on the 13900 block of CR 185.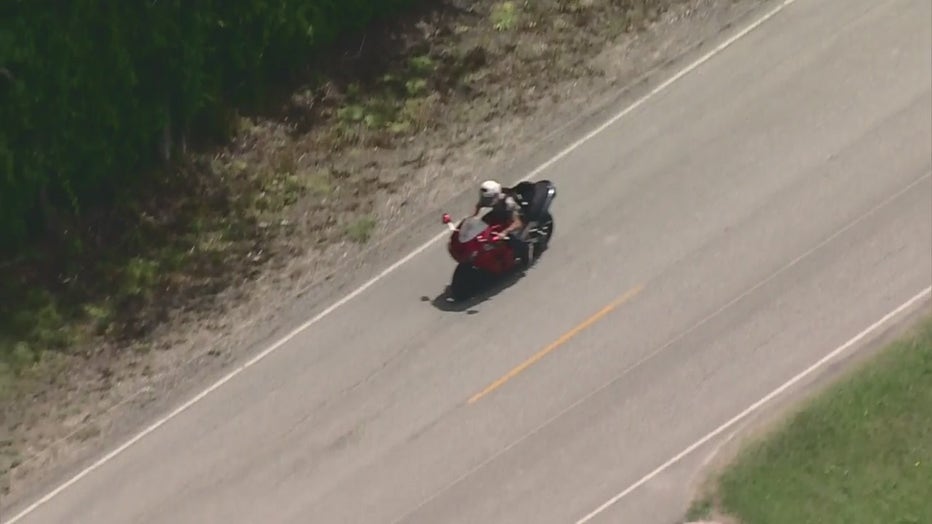 Brazoria County officials arrived on the scene and Crisp told them he wasn't going to come out. 
Police said they didn't have a way to communicate with Crisp during the standoff as he didn't have a cell phone and there wasn't a phone in the home. 
The standoff lasted for several hours before Brazoria County SWAT entered the home and found Crisp hiding in the attic. 
Authorities said they did find a bag full of catalytic converters and also said he lost some of them while evading police. 
Currently, Crisp will be charged with felony evading in Brazoria County along with the multiple warrants that were out for his arrest . He will face additional charges in Harris County. 
HPD did say the motorcycle that he was riding on did come up stolen, however, he hasn't been charged with that yet. He's only currently being charged with the stolen catalytic converters. 
Crisp will be taken to the Brazoria County Jail.