'He's been there': Trump stumps for Sen. Heller in Vegas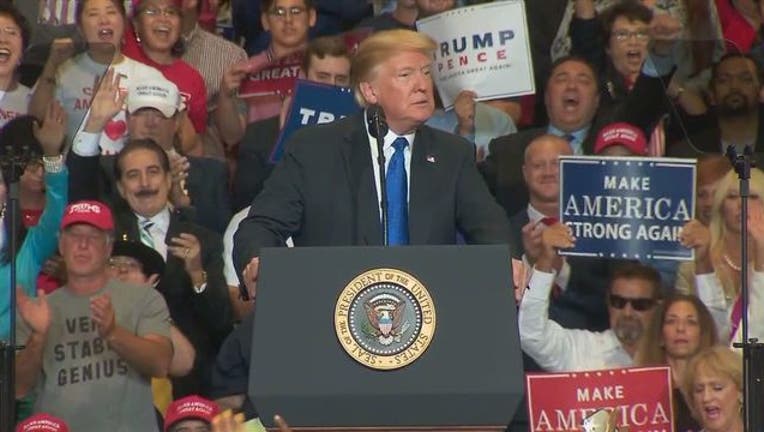 article
LAS VEGAS (AP) — His own political fortunes intrinsically linked to his party holding control of Congress, President Donald Trump on Thursday offered full-throated support for the most vulnerable incumbent Republican senator, while unleashing a torrent of grievances against Democrats and the news media and claiming they are sabotaging his administration.
Trump, appearing at a boisterous rally in Las Vegas, defended his embattled Supreme Court justice nominee, touted the booming stock market, cited progress in talks with North Korea and pledged to build his long-promised border wall, while also making the pitch for Nevada to re-elect Sen. Dean Heller. The president noted that he and Heller — who once said he "vehemently" opposed Trump — did not always get along.
"We started out, we weren't friends. I didn't like him, he didn't like me!" said Trump to laughs. "But as we fought and fought and fought, believe it or not we started to respect each other, than we started to like each other, then we started to love each other.
"Ever since I won the election, he's been there for us," said Trump, who urged Heller's re-election because the Republican majority in the Senate is so slim — 50-49 at the moment — that the GOP would lose their advantage if "someone had a cold." The president also bestowed one of his signature nicknames on Heller's opponent, Democratic Rep. Jacky Rosen, dubbing her "Wacky Jacky."
Heller returned the praise: "Mr. President, I think you just turned Nevada red today," he said. Trump narrowly lost Nevada to Hillary Clinton in 2016 despite his deep ties to Las Vegas — he has a golden-hued hotel just off the famed Strip — and repeatedly campaigning in the state.
Trump in particular focused his pitch for Heller on the need to confirm more conservative judges, in particular his Supreme Court nominee Brett Kavanaugh, whose seat on the bench had been thrown into question by allegations that he sexually assaulted a young woman while in high school more than 30 years ago.
Kavanaugh has denied the allegations.
While negotiations continued over whether his accuser, Dr. Christine Blasey Ford, would testify next week, Trump remained on message at the rally. He did not utter a critical word about Ford, but defended Kavanaugh, saying he was "a great intellect" and "a great gentleman with an impeccable reputation."
"We have to let it play out but I have to tell you, he is a fine, fine person," Trump said of the Senate confirmation process. "I think everything is going to be just fine."
There was one local topic Trump avoided. The Las Vegas rally was held three miles from the Mandalay Bay hotel where a gunman opened fire just over a year ago, killing 58 people and leaving 851 injured.
Trump made no mention of the shooting, though he assured Heller would vote in favor of the Second Amendment.
The rest of the rally was red meat for the crowd, which repeatedly roared its approval for the president but did not quite fill the room at the Las Vegas Convention Center.
As usual, Trump went after the media and many who attended the rally followed his lead. One man stood behind the president's traveling press corps, repeatedly yelling the word "traitors" at the journalists.
At one point reading from a list of his administration's accomplishments, Trump spent much of the rally focused on what advisers believe is his — and his party's — best issue, the strong economy. He took credit for the stock market's gains and the nation's low unemployment rate and bragged about boosting the military, while accusing Democrats of doing their best to foster division and stall the growth.
"They are lousy politicians and their policies are terrible," said Trump, in only his second rally as president in a state he lost two years ago, "but they are good at sticking together and resisting, that's what they do. You see the signs 'Resist, Resist.'"
With the chances of Republicans keeping control of the House of Representatives looking increasingly dismal, the White House has fixated on keeping the Senate as a bulwark against any Democratic effort to impeach and then remove Trump from office. Though the Senate midterm map favors Republicans, a few states, including Tennessee and perhaps Texas, could slip away from the GOP.
But no Republican-held seat is considered more endangered than the one in Nevada. The only Republican running for re-election in a state Hillary Clinton carried in 2016, Heller has been locked in a tight race in an increasingly blue-leaning state.
Though he fervently tried to wrap his arms around the president Thursday, Heller's relationship with Trump has been tumultuous. Weeks before the 2016 election, Heller infamously said that he was "100 percent against Clinton, 99 percent against Trump," a remark the president has not forgotten.
Heller drew the president's ire a year ago when he held up Republican efforts to repeal former President Barack Obama's signature health care law. But Trump saved Heller from a costly and damaging primary battle earlier this year by persuading a very conservative primary challenger, Danny Tarkanian, to drop out of the Senate race and instead seek a House seat.
Heller is now in a close race with Rosen, a first-term congresswoman who stands to benefit from a wave of Democratic and female activism fueled by opposition to Trump. And the senator, at times, has struggled to strike a balancing act of praising the president, who remains popular among Republicans, while distancing himself from Trump's scandals and provocative positions.
"Eighty percent of what this president has done has been very, very good, very positive," Heller told reporters last week. "The other 20 percent ... he has a reality show. I get it. It's a reality show."
___
Associated Press writer Michelle Price contributed to this report. Colvin reported from Washington.