Heat advisory prompts opening of cooling centers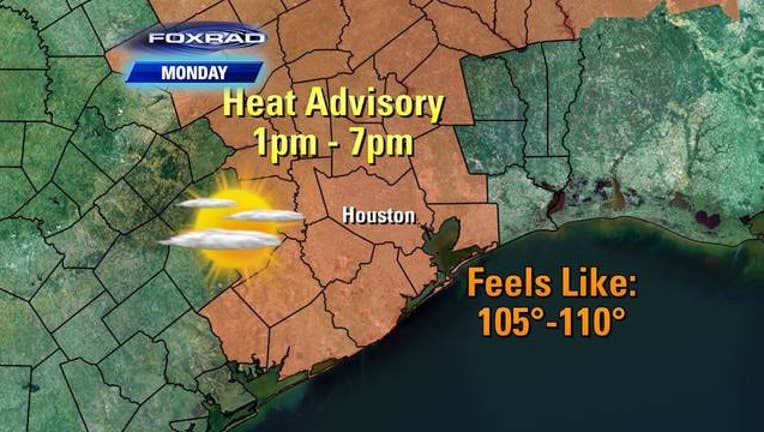 article
HOUSTON (FOX 26) - Since the National Weather Service has issued a heat advisory for Houston from 1 p.m. until 7 p.m. on Monday, the City of Houston has activated the Heat Emergency Plan and has opened designated cooling centers. Heat indices are projected to reach no less than 105 degrees during the heat advisory time range.
For a full list of cooling centers, visit http://www.houstonemergency.org/go/doc/2263/1994414/. To arrange for free transportation to the cooling centers, contact METRO by phone at 311 or 713-837-0311.
The Houston Health Department has provided the following list of ways to prevent heat-related illnesses: 
Wearing loose-fitting, light-colored clothing if you're going to be outdoors.
Drink plenty of water, and avoid caffeine and alcohol, as these can cause dehydration
Conduct outdoor work, such as lawn care in the early morning or evening when it is cooler.
NEVER leave Children, Seniors or pets unattended in vehicles
Wide-brimmed hats help prevent sunburn as well as heat-related illness.  Sunscreen reduces the risk of sunburn.
If your home is not air conditioned, seek accommodations in air-conditioned facilities such as libraries, multi-service centers, malls , movies theaters, etc.
Take frequent cool baths or showers if your home is not air conditioned
Be informed about changing conditions. The National Weather Service usually declares a Heat Emergency when the heat index, a  computation of the air temperature and humidity, reaches 108 degrees on two or more consecutive days. A  heat index of 108 is a potential health threat for all people and is particularly dangerous for high-risk groups.
The Houston Fire Department has provided the following six ways to prevent deaths in hot vehicles:
Place your cell phone, briefcase, purse or other important item in the backseat before driving to your destination. This will get you in the routine of checking the backseat every day.
Establish a peace-of-mind plan. When you drop off your child, make a habit of calling or texting all other caregivers, so all of you know where your child is at all times.
Thirty percent of the deaths in the U.S. have occurred when a child climbed into an unlocked vehicle. Before getting out of the car, check to be sure everyone is out and lock all doors.
Communicate planned absences with daycare providers. Ask them to call you if your child does not arrive on time, and they have not heard from you.
Educate your children about not playing in and around vehicles.
If you see a child alone in a car, dial 911 immediately.