Fire damages former church under renovation in northwest Harris County: HCFMO
A former church was heavily damaged in a fire Wednesday morning in northwest Harris County, officials say.
Multiple fire departments were battling the two-alarm fire in the 11600 block of W. Montgomery Road near Lincoln Drive.
CLICK HERE FOR THE LATEST LOCAL NEWS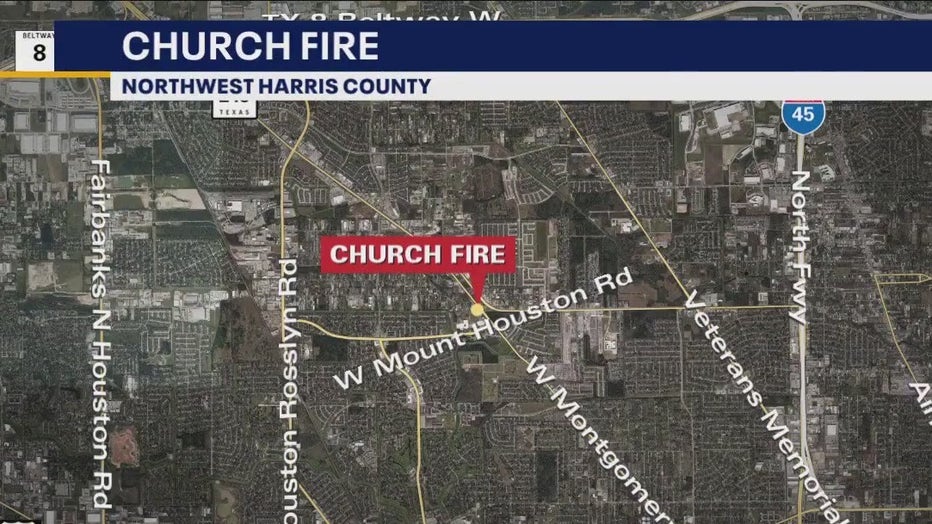 According to the Harris County Fire Marshal's Office, the building was unoccupied and was a former church undergoing renovations to become a commercial property.
Officials say the Northwest Fire Department District 40 initially responded to a fire across the street at an unoccupied convenience store in the 11500 block of SH 249 around 6:11 a.m.
While they were there, a bystander came over and told them that the church across the street was also on fire. The fire marshal's office says firefighters arrived at the former church at 6:16 a.m.
Firefighters on the scene of a fire on W Montgomery Road.
Nine fire departments and about 60 personnel responded to the scene to help with the fire. The fire marshal's office says there are no fire hydrants near the former church, so the fire departments were helping to shuttle in water.
The roof of the building appeared to be destroyed. Firefighters were still on the scene as of 9 a.m., but flames were no longer visible.
Once the fire is out, the fire marshal's office will be able to enter to the church to continue their investigation into the cause and origin of the fire.
The fire marshal's office says they are investigating both fires, and until those investigations are complete, they don't have a reason to believe they are related.