Group of motorcyclists targeted in deadly drive-by shooting on Houston's eastside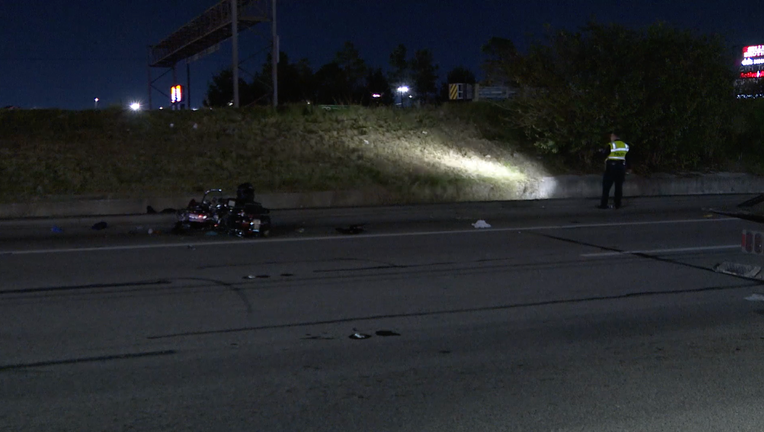 HOUSTON - A man is dead after a gunman opened fire on a group of motorcyclists Tuesday night on Houston's eastside, and police are now searching for the suspects.
Police say they received a call around 9:30 p.m. about an incident on I-10 just west of Federal.
CLICK HERE FOR MORE LOCAL NEWS
"We assumed it was a fatal accident," said HPD Lieutenant R. Willkens. "Ended up it's not."
Police found a motorcyclist who had crashed on the I-10 service road with a gunshot wound.
"That's what we believe he died from," Willkens said.
The 26-year-old victim was transported to an area hospital where he was pronounced dead.
DOWNLOAD THE FOX 26 NEWS APP FOR THE LATEST ALERTS
Police say two other motorcycle riders with non-life threatening gunshot wounds were discovered off of Dell Dale Street, where they went to get help.
The victims, 27 and 30 years of age, were transported to an area hospital in stable condition.
Investigators determined the motorcyclists were part of a group that were hanging out at the Blue Bayou Cafe off the East Freeway.
Witnesses told police that when the group was leaving a black SUV drove by them and "sprayed them with bullets" hitting all three of the victims.
Investigators canvassed the area and are now talking to witnesses at the cafe and looking at all the cameras.
SIGN UP FOR THE FOX 26 NEWSLETTER
The suspects are described only as four Hispanic males in a black SUV.
Anyone with information in this case is urged to contact the HPD Homicide Division at 713-308-3600 or Crime Stoppers at 713-222-TIPS.