Government to expand, extend Texas tent shelter for children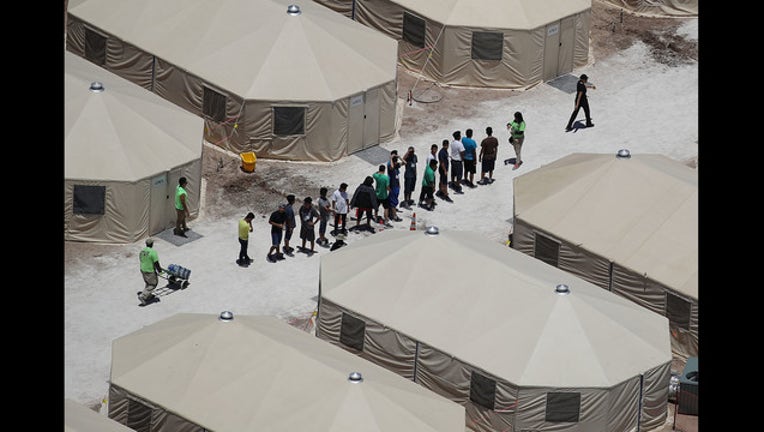 article
By NOMAAN MERCHANT
Associated Press
HOUSTON (AP) -- The U.S. government will expand its tent shelter for immigrant minors crossing the southwest border to 3,800 beds and keep it open through the end of this year, an agency spokesman said Tuesday.
The facility at Tornillo, Texas, which originally opened with a 360-bed capacity for 30 days, is being expanded based on how many children are in the care of the U.S. Department of Health and Human Services, agency spokesman Kenneth Wolfe said in a statement.
Wolfe said the announced expansion was not due to the Trump administration's zero-tolerance policy, which led to the separations of more than 2,500 children from their parents. Three months after enforcement of the policy officially ended, more than 400 children remain in government care, away from their parents, many of whom were deported. 
Those previous family separations "are not driving this need," Wolfe said. He said 1,400 of the beds will be placed "on reserve status."
Department officials have visited military bases and other properties in Texas, Arkansas, and Arizona that could host more beds for immigrant children, but "no decision to use any of these properties has been made," Wolfe said. 
While the government has stopped large-scale separations, thousands of immigrants continue to arrive at the southwest border each month, mostly from Central American countries roiled by gang violence and poverty. 
The U.S. Border Patrol said it apprehended nearly 4,000 children unaccompanied by an adult at the southwest border in July, the most recent month for which figures are available. That represented a decrease from May and June, but border crossings historically tend to rise as the summer heat gives way to cooler temperatures in fall. 
In Texas, the state with the longest segment of the U.S.-Mexico border, 5,168 children were being held in government facilities in early August, about 500 children short of capacity, according to figures released by the Texas Health and Human Services Commission. 
The Tornillo facility is at a U.S. Customs and Border Protection port of entry about 40 miles (64 kilometers) southeast of El Paso. The Tornillo port of entry had previously been used to shelter children in 2016.
Reporters were allowed to tour the facility in June , shortly after it was re-opened in the wake of family separations.
At the time, more than 320 children ages 13 to 17 were being held in air-conditioned tents. A facility administrator told reporters that the main complaint he hears from children on site is that the tents sometimes get too cold.
Reporters were not allowed to enter any tents holding children. Two girls who stopped briefly in front of reporters said that they were doing well.