Free Press Summer Festival canceled due to weather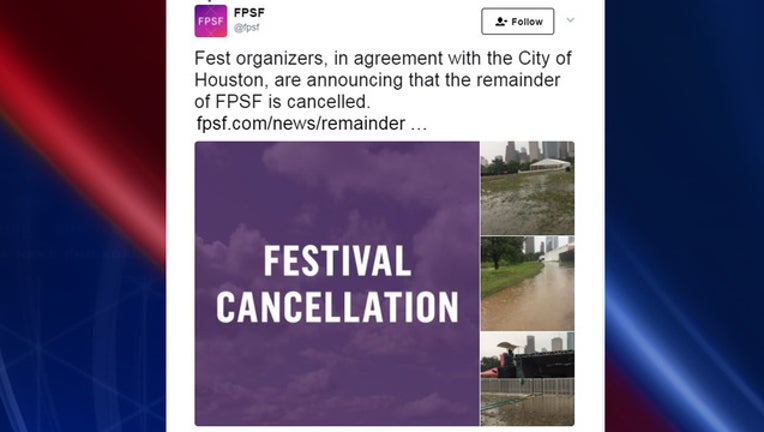 article
HOUSTON (FOX 26) - Free Press Summer Festival officials announced around 6:30 p.m. Sunday that the remainder of the festival was canceled, citing weather conditions and customer safety.
Lightning prompted an evacuation of the festival around 2:30 p.m., and postponed performances. Attendees were asked to take shelter in garages near the festival entrance while storms passed through the area. Heavy rains prompted a flash flood warning for Harris County -- as well as Montgomery County, Fort Bend County, and Brazoria County -- Sunday afternoon that was set to expire at 6:45 p.m.
FPSF released this statement about the cancelation:
FPSP says customers can receive a 50 percent refund in the next 7-10 business days.
"Refunds of 50% of the base ticket price will be refunded for any tickets purchased with a credit card within the next 7-10 business days. Ticketholders who purchased tickets with cash at the FPSF Box Office will need to contact Front Gate Tickets and provide their wristband print ID to request their refund at support.frontgatetickets.com within the next 30 days. Ticketholders who purchased tickets today, June 4, will receive a full refund."
Some musicians who were set to perform tweeted about the cancelation.
Earlier in the day, Charli XCX tweeted about her performance being canceled.