Former Sheriff Adrian Garcia takes office as Precinct 2 Commissioner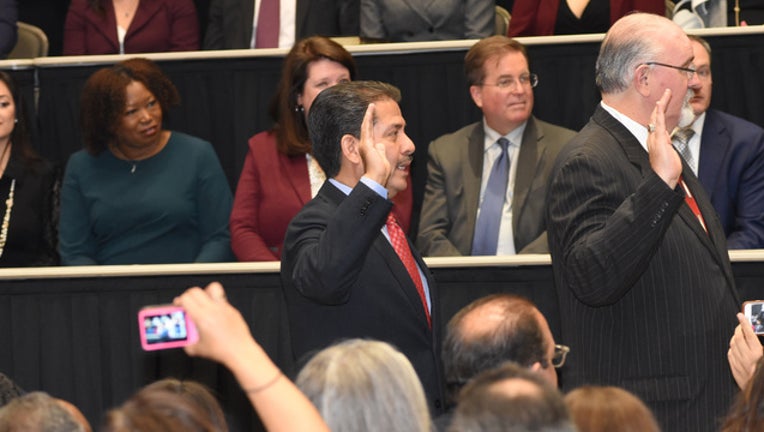 Former Harris County Sheriff Adrian Garcia took the oath of office to become Harris County Precinct 2 Commissioner on January 1, stepping into a role he calls the honor of a lifetime.
"It is the honor of a lifetime to serve the people of Precinct 2 as County Commissioner," said Garcia. "I am deeply grateful to the voters, volunteers and my family for their support of my commitment to public service."
Commissioner Garcia's experience in public service goes back decades beginning as a Houston police officer, then being appointed as Director of the Mayor's Anti Gang Office in 1994, his election to Houston City Council in 2003, and serving as Mayor Pro-Tem. In 2008, Garcia was elected Harris County Sheriff.
Now as Precinct 2 Commissioner, Garcia says he is committed to the promises he made to voters including making education a priority in county government, connecting residents to opportunities throughout the region and tackling challenges. His goals include adopting infrastructure and flood control solutions that are equitable and environmentally sound and to help residents obtain family-sustaining jobs through services and programs.
"The campaign is over and it's time for all of us to come together, roll up our sleeves and begin the hard work improving our communities. We're already off to a great start – because Precinct 2 is blessed with the most humble and hard-working people I know," said Commissioner Garcia.
Commissioner Garcia grew up in the Northside where he still lives with his wife.
"Serving as County Commissioner for Precinct 2 is a dream come true. I'll work hard every day to live up to my dad's example and adhere to his words of wisdom while protecting the trust placed in me by the voters." said Commissioner Garcia.