Former Baytown officer indicted for assault after viral arrest video
BAYTOWN, Texas - A former Baytown police officer who was fired after a man's arrest video went viral has been indicted for assault.
The district attorney's office says a Harris County grand jury indicted Nathaniel Brown for assault, a Class A Misdemeanor punishable by up to one year in jail and/ or a $4,000 fine.
"The grand jury has made clear that our community won't tolerate unnecessary violence by anyone including police officers," Harris County District Attorney Kim Ogg said. "We need one standard for everyone and the law must be applied equally in order for people to continue to believe in our justice system."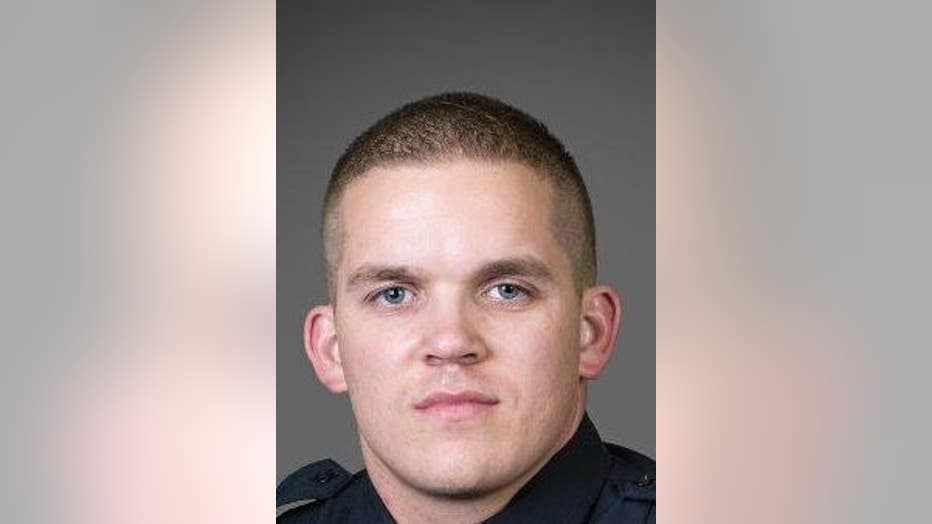 Ex-Baytown police officer Nathaniel Brown
The incident occurred following a traffic stop on June 2 outside a convenience store on Market Street in Baytown.
The DA's office says officers detained and then handcuffed a 23-year-old man for an alleged traffic violation. As officers handcuffed that man, the DA's office says eyewitnesses under the awning in front of the store commented about the arrest, and one of the witnesses began filming the entire episode on his cell phone.
The video reportedly shows the driver being handcuffed and then shows Officer Brown walking across the parking lot and confronting the witnesses.
MORE: Baytown Police Department Officer fired after viral video sparked investigation
The DA's office says Brown asked one witness, Skylar Gilmore, to put his hands behind his back, threw him to the ground, and then used a knee to strike Gilmore in the shoulder and face.
Gilmore and another witness, 23-year-old Isaiah Phillips, were arrested for disorderly conduct-language, for their public use of profanities while watching the arrest, the DA's office said. Gilmore was also charged with interfering with public duties.
When the facts surrounding the incident, including the video, came to light, the District Attorney's Office says they dismissed the charges against the two witnesses.
Following a review of the incident by BPD's Internal Affairs Division, Brown was fired from the department on July 20.
MORE: Arrest of Baytown man goes viral, sparks internal affair investigation
The Baytown Police Department sent the following statement to FOX 26 on Wednesday afternoon:
A few months ago, after conducting a thorough investigation into the June 2nd arrest of 24-year-old Skylar Gilmore by former Officer Nathaniel Brown, who was relieved of his duties by Chief Dougherty as a result of the internal review of the incident, the Baytown Police Department presented their findings to the Harris County District Attorney's Office for their review. Today those findings were presented to a Harris County Grand Jury who handed down an indictment against Mr. Brown on Class A Misdemeanor Assault charges. We have faith and trust in the Grand Jury process and respect their work and decision in this first step of the judicial process on this matter.
We hold all of our officers to very high moral, ethical, and professional standards and are committed to holding accountable those who fail to adhere to those standards. As we wait for this case to proceed through the judicial system, we ask that our community continue to have faith and trust in the Baytown Police Department and the dedicated, professional men andwomen who are committed to serving all members of our community with integrity, compassion, and professionalism.