FIFA World Cup logo brand reveal for Houston, #WeAre26
HOUSTON - The FIFA World Cup is coming to Houston in 2026, but the excitement continues to bubble as the logos for the ceremony were revealed.
The brand created for Houston includes specific colors and patterns unique to the city's innovative, diverse, and authentic spirit. "With this new brand, Houston is looking forward to showcasing its diversity, rich history, and passion for soccer," the release said.
The FIFA launch campaign, WE ARE 26, aims to empower people, places, and communities to play an integral role in launching the FIFA World Cup 26 Official Brand.
FIFA IN HOUSTON: Houston named host city for FIFA 2026 World Cup
Houston will celebrate this launch with the FIFA World Cup 26 logo on sidewalks around town, digital billboards throughout Houston, and blue building lights throughout Downtown.
"We are thrilled to be bringing the FIFA World Cup 2026 to this region," said Harris County - Houston Sports Authority CEO Janis Burke. "This world cup will not only be the biggest sporting event our community has ever seen but will help solidify our reputation as one of the premier sports destinations in the United States. We look forward to using the World Cup 2026 to showcase Houston's diversity, culture, and love of soccer!"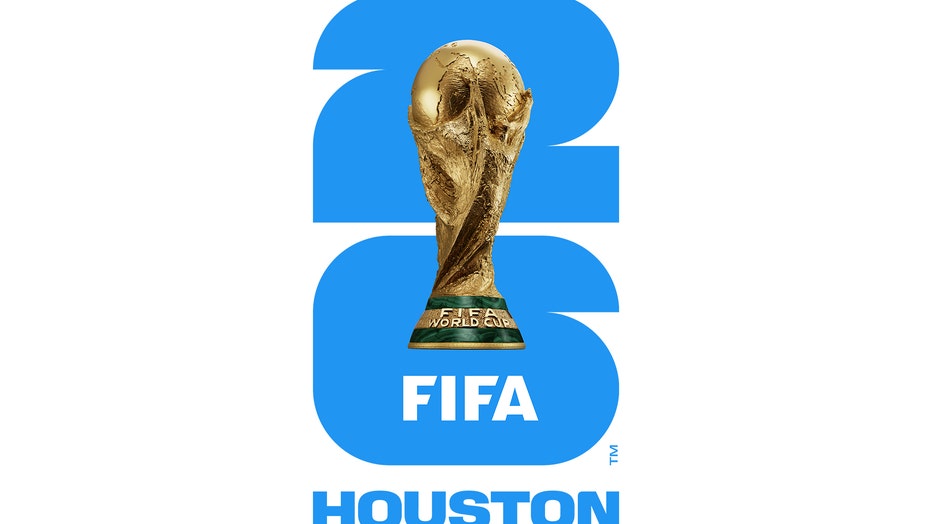 "The unveiling of this logo is an exciting development in the run-up to 2026," said Harris County – Houston Sports Authority appointee for President of the Houston FIFA World Cup 26 Host Committee, Chris Canetti. "We continue to progress in our planning as a Host City for the FIFA World Cup and look forward to leveraging the power of the world's most popular and prestigious sporting event to help grow the game in the Greater Houston area and expand its impact as a force for social and environmental responsibility, locally and worldwide."
DOWNLOAD THE FOX 26 HOUSTON APP
Sixty games are to be played in the U.S., including all from the quarterfinals on. Canada and Mexico are to host 10 games each.
2026 World Cup host cities
West Region
Guadalajara
Los Angeles
San Francisco Bay Area
Seattle
Vancouver
Central Region
Atlanta
Dallas
Houston
Kansas City
Mexico City
Monterrey
Eastern Region
Boston
Miami
New York/New Jersey
Philadelphia
Toronto