Father and Son to Run 24 hours for Childhood Cancer Awareness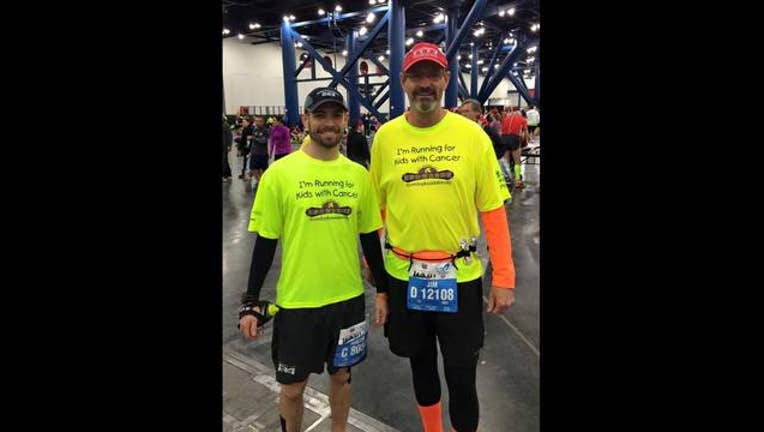 article
Houston - Father and son duo, Jim and Dustin Abney will run 24 continuous hours to bring awareness to pediatric cancer, help raise funds to support research and provide college scholarships through the Snowdrop Foundation.  This run happens September 11th and 12th.
"In August 2012, a young man named Sammy, who is very close to our family, was diagnosed with Leukemia," commented Jim Abney.  "This is a cause we should all get behind and I really would like to encourage people to donate and lend a hand."
The 58 year old Abney, from Santa Fe, Texas, a retired U.S. Coast Guard veteran and Director of Transportation and Safety for the Alvin Independent School District, began running in 2012. Just two years later, in 2014, Jim ran 20 miles per bed for each of the 62 beds at the Texas Children's Hospital Cancer Center. By the end of the year he had completed 1,511 miles for pediatric cancer awareness.
Dustin, Jim's son, owns a local nutrition club and got his start running in 2014 inspired by his father.  In January 2015 he along with his brother Derrick finished their first 100 miler alongside their father finishing as the first father/sons combination to complete the Snowdrop Ultra 55 Race and Relay.  During the 24 hour run, Derrick will be crewing the two assisting in nutrition and hydration along the way.
Dustin states that he is very much looking forward to the challenge of running 24 hours straight alongside Jim and helping raise awareness and donations for childhood cancer research.
The run begins at the Texas Children's Hospital on September 11 at 8am and will end with the duo joining the TRC Run Over Cancer 5K/10Kin Sugarland to run their final hour, completing their run at the finish line at 8:00am.
For more information, be sure to visit www.snowdropfoundation.org