Family, food & fun entertainment in Houston for a greater purpose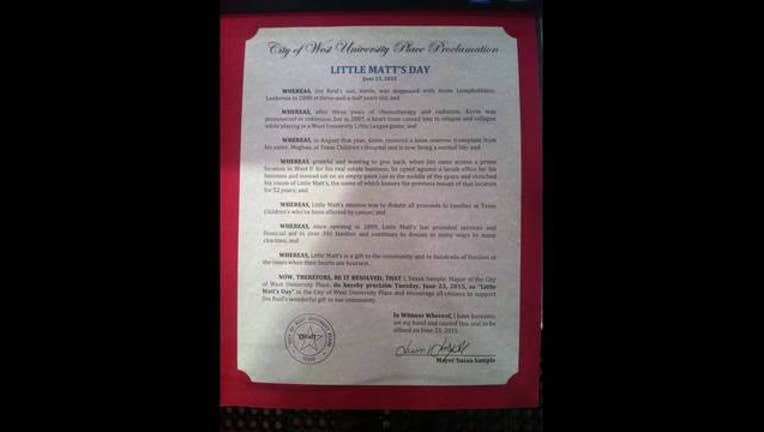 article
If you're looking for a fun meal with your family at a place that has a lot of heart and soul, "regulars" encourage you to try out Little Matt's in West University Place. Little Matt's is a restaurant that's full of surprises for the entire family, including the dog! It's a powerful combination of food and entertainment with plenty of meaning behind it. The owner, Jim Reid, donates the proceeds to help young cancer patients at Texas Children's Hospital, the institute that helped save his son's life from leukemia.
We've never seen patrons so excited to talk about a place before. They call it magical, special, a blast, a must see and do, and the list goes on an on.  That's because while it's a restaurant, it's also a candy shop and arcade, and even offers dog treats outside for those walking by. FOX 26 News was there when Reid received a proclamation from the City of West University Place, deeming it "Little Matt's Day." 
Reid opened up the business in 2009 in honor of Kevin, his son who was battling cancer. 
"When he was three years old, he was diagnosed with leukemia," explains Jim. "After three years of chemo, he was pronounced in remission. After about three years, he relapsed again."
Kevin's sister was a perfect bone marrow match and helped save his life. Jim is now using the proceeds from Little Matt's to help other families, who are dealing with cancer. 
"I had no financial plan," explains Jim. "I just said, if we build it they will come. We built our own tables, we took the brick off an old church down by Minute Maid Park and we used it for what I like to say, "the mojo," and it felt good."
Jim has financially helped more than 1,200 families who have children suffering from cancer. This relief definitely helps them emotionally as well. A Houston-area family stopped to give Reid a hug and share a few kind words while FOX 26 were there. 
"It's astounding you created this place," says one woman. "We feel welcomed and loved here, and it's wonderful that proceeds go to help other children.  We couldn't be happier,"
Kevin's oncologist from Texas Children's Hospital couldn't be more impressed with the generosity of the boy's father. 
"He doesn't really keep any profit - he gives it to Texas Children's in a variety of ways," says Dr. ZoAnn Dreyer, the medical director of the Long-Term Survivor Program at Texas Children's Hospital. "He has helped us in so many volunteer things I have worked with, including Periwinkle, Texas Children's Grand Adventure! He's kind of like a little boy all grown up in a man's body, and that's how he treats the kids here! There are quarters for everybody, games for everybody, it's a haunt, everyone's here." 
It was Jim's idea to put in a wall full of iPads to keep the children happy and busy. Also a touching wish wall where dreams hopefully will come true.  Parents also get a free "adult beverage" or two of their choice. Jim says he hopes this helps them enjoy quiet downtime during dinner while the children are busy playing. 
"I feel like it's a win-win situation," says Gigi Shadid, a frequent diner at Little Matt's. "It's good food! We're supporting families who are suffering, and God bless Jim and everyone at Little Matt's for helping all of those who are suffering,"  
"The main thing was to provide a family hub for everyone to come and feel safe and secure and have an outlet to get rid of anxiety and depression," says Jim. He says he tries to re-invent Little Matt's by bringing in fresh ideas every six months. 
By the way, you may recognize the name of the restaurant from the business that was there for fifty years, Matthew's Motor Company.
For more information, visit https://www.facebook.com/littlematts.