Exhausting SXSW festival tempered by health, wellness exhibits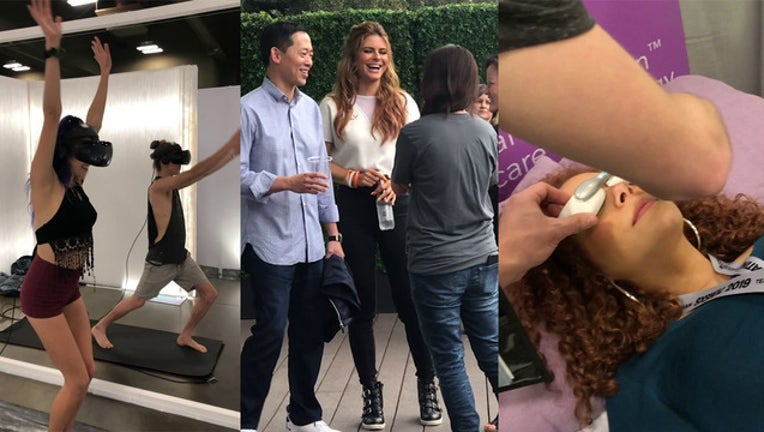 AUSTIN (FOX 26) - Attending South by Southwest sessions and exhibits can be exhausting, with people hitting 20,000 steps or more a day trying to fit in everything on their schedule.
Backs ache and calves burn, and any opportunity to sit is a welcome one. That's why the event's Wellness Expo seems like an oasis in the middle of an overly-crowded Austin.
Attendees could find anything from cauliflower-crusted pizza to chiropractor sessions to keto-friendly creamer and even plants to liven up your space. There were also several CBD products.
One of the popular exhibits near the entrance: Lululemon's VR experience called EMBODY. Participants stand on pressure-sensing yoga mats while wearing VR headsets that transform them to a calming environment, where they are guided through a cooperative yoga journey.
Umay Rest, a high-tech sleeping aid came with an inflatable bed for people try. The device, which was honored at CES, uses thermal technology to heat up eyelids while also vibrating to cue breaths.
Those breaths will also come in handy in the Peacebox, a mobile meditation trailer. No phones or shoes allowed. Good to clear your head and just sit. Unfortunately, they're just in Austin at the moment.
Also at SXSW to address wellness was Maria Menounos. The TV host and journalist spoke to FOX 26 at the Rally House about the importance of taking control of your health and going to the doctor.
"When you're busy taking care of everybody else, you neglect yourself," Menounos said. "That's something that a lot of women do unfortunately."
In 2017, doctors discovered Menounos had a golf ball-sized brain tumor. Although health was always important in her family, after her personal scare she now takes it into the highest consideration.
"I know one thing will lead to another if I don't focus on it and take care of it."
Menounos is an ambassador for Rally Health, which announced its next-generation digital health platform at SXSW. It simplifies the consumer health experience by making everything work together seamlessly.
Users can access and manage their health care needs in a single, comprehensive app -- which also offers pricing up front!
No matter what product you gravitate to, there's no doubt that technology is improving our health and wellness.