EXCLUSIVE INTERVIEW: Fmr Gov Mike Huckabee sits with Isiah Carey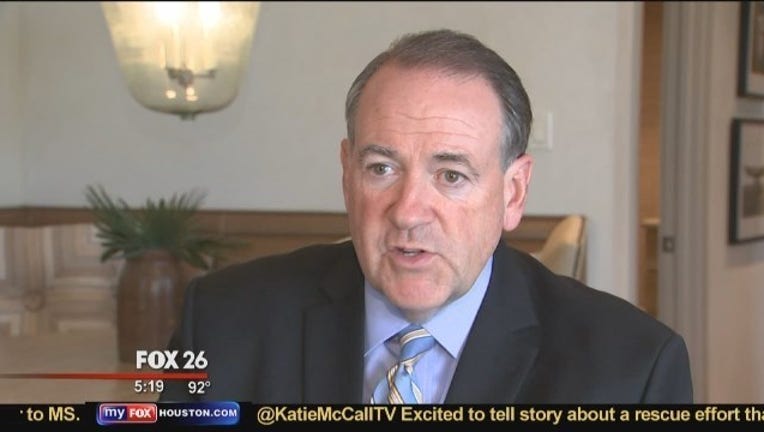 article
Former Governor Mike Huckabee sat down for an exclusive interview with FOX 26 Reporter Isiah Carey Wednesday afternoon in Houston. He was in town for a series of fundraisers and public appearances. Carey covered the Governor in the late 1990's when he worked as a reporter in Little Rock.

Huckabee is officially running for President as a Republican for a second time.  The Baptist Minister's platform is that of a social Conservative.  And like any Conservative he's focused on illegal immigrants.

He's especially focused on the immigration issue since the arrest of an illegal who is charged in California with shooting and killing a woman in San Francisco last week.

Huckabee says, "It's time we say, 'What kind of an example does it set when a city openly says we're not going to let the federal government do its job dealing with illegal immigration.'"

The former Fox News Channel host is also focused on reminding America the damage that will be done by the US Supreme Court for upholding same sex marriage.

"Do we let the constitutional authority be superseded by black robes," says Huckabee.

We also explored the Jade Helm issue as well with the Arkansas native.  Some here Texas believe a U.S. military exercise is a secret plan by the federal government to invade Texas.  Huckabee blows it off.

Huckabee is in a crowded field of Republicans who say they want to be the next President.  But let's face it some of them could be in the race for book deals and future financial gain.  What about the former Arkansas Governor?

He says, "That's what I walked away from to become President. It's pretty obvious to anyone following this that I must be serious about becoming President."