Everybody needs a Ted: Two strangers become besties at a Capitals game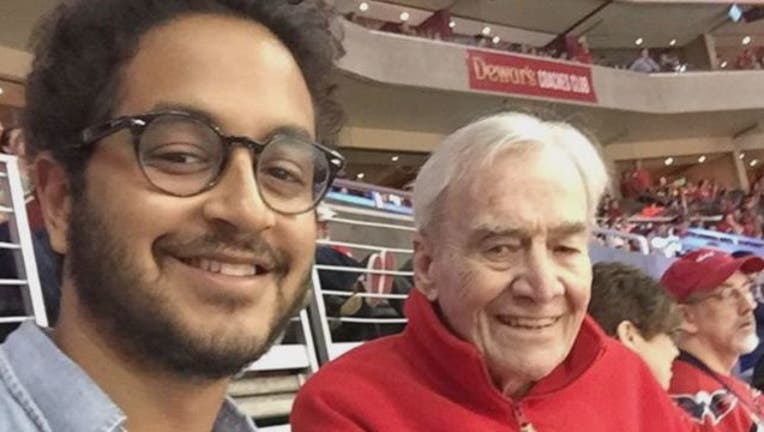 article
WASHINGTON - An unexpected friendship blossomed at a Capitals game for a retired Navy pilot with an extra ticket and a young man in search of one. 
Ted F. Bronson is a retired Navy pilot who enjoys watching the Washington Capitals kick butt on the ice rink—go Caps! His favorite player is Jay Beagle.
Over the weekend the Caps played against the Toronto Maple Leafs. Mr. Ted had an extra ticket and instructed a security staff member to hand it off to someone who'd watch the game with him. 
That fortunate stranger was Ismael "Ish" Elhelbawey. He posted a selfie with Mr. Ted on Instagram and won the internet's heart!
Ish had plans to watch the Caps game with his family but they were short a ticket.  
He told FOX 5 he circled around the Verizon Center hoping to scalp one for cheap but the asking price was over $275, something way out of his budget. 
He approached a security guard to ask if reasonably priced tickets could be purchased inside, explaining that his family only had three tickets and needed a fourth for himself. 
That was when the guard pulled out the extra ticket, given to him by Mr. Ted, and explained how incredible the seat would be—and it was!
Ish confessed he was skeptical at first. But when the guard handed him the ticket, he immediately was overcome by joy. 
"My instincts told me that I was extremely privileged and fortunate to receive this ticket. It is the greatest random act of kindness I had ever witnessed," Ish told FOX 5. 
Once he made it to his seat he met Mr. Ted and the two instantly hit it off. 
As they enjoyed beers and hotdogs, Mr. Ted went on to talk about his favorite Egyptian presidents and how landing planes is apparently more stressful than dropping bombs. Honestly, both sound very stressful!
The game went into double overtime so they spent a great deal of time laughing and bonding.
The newfound besties exchanged emails and Ish told FOX 5 he hopes to meet him again real soon. 
"Never underestimate the profound ability of sports to bring people together, call your grandparents, love our vets, and pray for the Capitals!"