Dusty Baker honored by MD Anderson Cancer Center, more than $1.5 million raised for cancer research
HOUSTON - Houston Astros manager Dusty Baker isn't only a baseball legend, but he's also a cancer survivor and he brought an audience to tears and laughs on Thursday during The University of Texas MD Anderson Cancer Center's A Conversation with a Living Legend event.
The intimate fireside-style char was led by Todd Kelas, the voice of the Houston Astros, and brought the crowd of almost 900 to their feet. The excitement was through the roof for the more than 1.5 million raised for cancer research and patient programs at MD Anderson.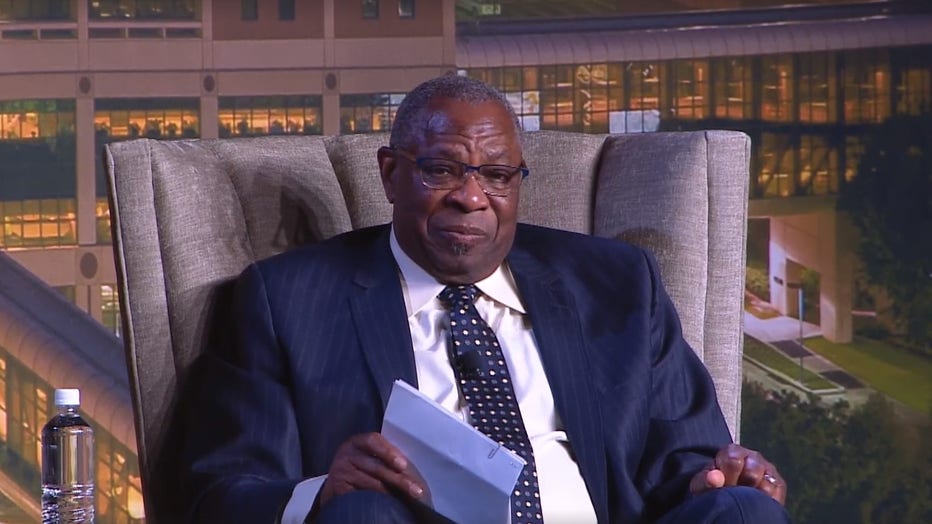 (Photo credit to MD Anderson)
A prostate-specific antigen (PSA) screening alerted Baker to his aggressive prostate cancer diagnosis before the start of the 2002 season. Post-diagnosis, he made a commitment to take his son Darren to as many games as possible, including a World Series game where Darren, who was a bat boy at the time, almost collided with a player at home plate.
"Thank you to MD Anderson for this great honor," said Baker. "Tonight's event was wonderful to be a part of, supporting MD Anderson and all their important efforts to end cancer."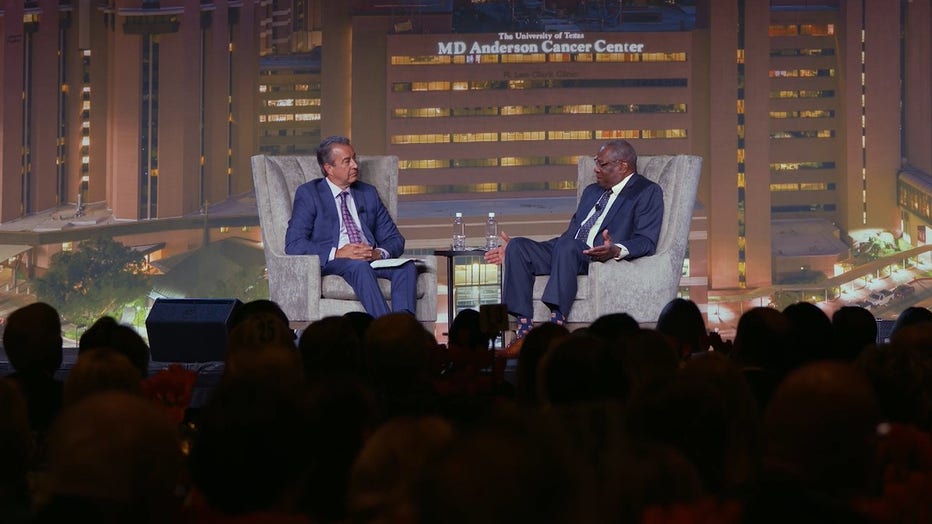 (Photo credit to MD Anderson)
Those in attendance could take photos with the Commissioner's Trophy and watch a tribute video with interviews from fellow cancer survivor Buck Martinez, play-by-play announcer for the Toronto Blue Jays; philanthropist Billye Aaron, wife of the late Hank Aaron, major league baseball hall of famer and former MD Anderson Living Legend, and more
"Dusty's passion for the sport and his remarkable leadership are unmatched," said Peter WT Pisters, M.D., president of MD Anderson. "He is the epitome of a Living Legend and we are grateful for his efforts in our mission to end cancer."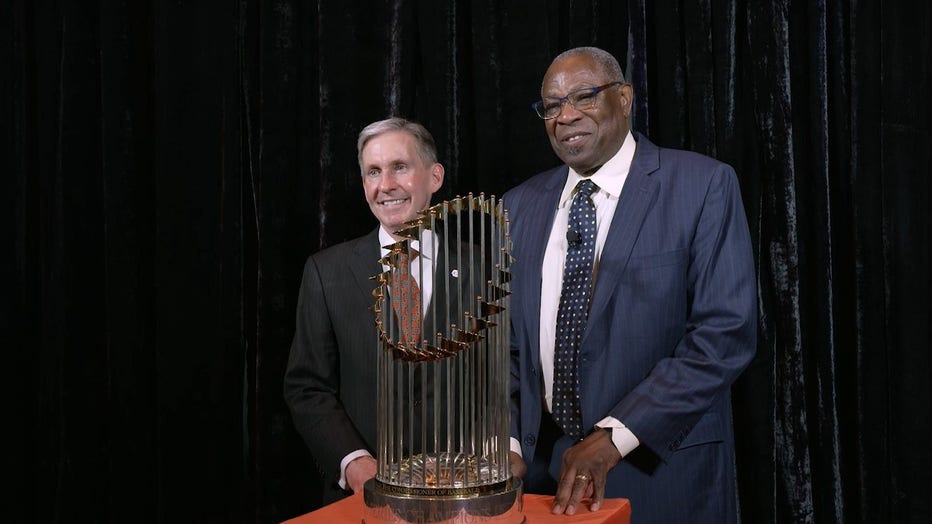 (Photo credit to MD Anderson)
A Conversation with a Living Legend honored Baker's impact not only on the field but among cancer survivors everywhere. The event is chaired by noteworthy Houstonians – Don Sinclair, T. Mark Kelly, and Bob Gwin, all members of the MD Anderson Cancer Center Board of Visitors.
"We are incredibly grateful to Dusty, a true gentleman whose love of his family and unwavering faith make him a special role model for all of us," said Sinclair. "His success on and off the baseball field continued last night, as we honor him with more than $1.5 million raised in Making Cancer History."
The chat lasted nearly an out and went over Baker's decades-long career in MLB. The legend spoke about a varying range of topics such as lessons on forgiveness; family including mentor and MLB great Henry Aaron; musical interests; Spanish lessons that came in handy in his pro-ball days; and calls from President Barack Obama, Snoop Dogg and Sandy Koufax post-World Series win.