Doug Jones defeats Roy Moore in Alabama U.S. Senate Special Election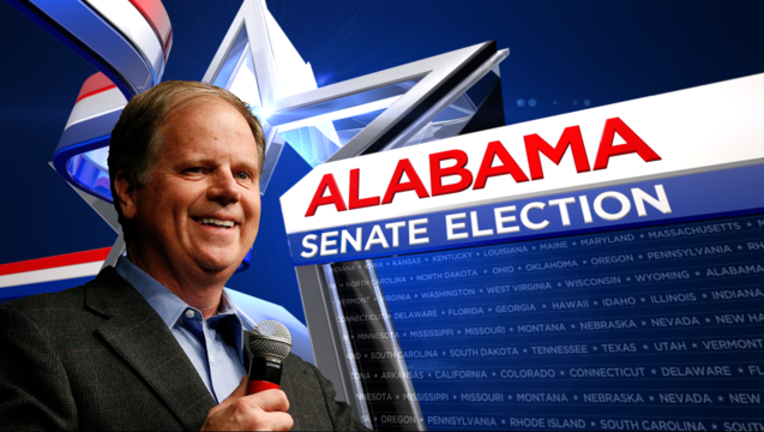 article
(AP) - Democrat Doug Jones has won election to the U.S. Senate from Alabama, dealing a political blow to President Donald Trump.
Jones has defeated Republican Roy Moore, a one-time GOP pariah who was embraced by the Republican Party and the president even after facing allegations of sexual impropriety.
An attorney and former prosecutor, Jones rallied voters on a message of moving past the Moore controversies. He was buoyed by an influx of national Democratic cash and endorsements.
Jones' victory is set to narrow the slim Republican majority over Democrats in the Senate to 51-49. His win in the Republican stronghold energizes the Democratic Party as it looks to build on anti-Trump sentiment to mount a challenge next year to Republican control of Congress.
---
Reactions
Outgoing U.S. Senator Jeff Flake (R-AZ) has issued a brief tweet that simply reads "Decency wins".
(Can't see this tweet? Click here)
Meanwhile, Jones has also made a brief tweet on his election as Senator, thanking Alabamans for his victory.
(Can't see this tweet? Click here)
Meanwhile, Donald Trump issued a tweet on the issue.
(Can't see this tweet? Click here)
---
(Can't see this Facebook video? Click here)

---
About Doug Jones
Doug Jones, a Democrat who once prosecuted two Ku Klux Klansmen in a deadly church bombing and has now broken the Republican lock grip on Alabama, is the state's new U.S. senator.
Jones, 63, grew up in the working-class city of Fairfield, just west of Birmingham, an area where steel mills once belched smoke that left a rust-colored haze hanging over the metro area. His father was a steelworker and so was one of his grandfathers; the other worked in a coal mine. Jones spent time working in a mill when not in school.
Now an attorney in private practice, Jones lives just a few miles from his hometown in the hilly suburb of Mountain Brook, Alabama's richest locale with an average family income estimated by the U.S. Census Bureau at $225,000 annually.
Years before running for Senate, Jones made a name for himself prosecuting two KKK members for the bombing of Birmingham's 16th Street Baptist Church, a brutal crime that killed four black girls in 1963.
One Klansman was convicted in the blast in 1977, and a renewed investigation was underway by the time President Bill Clinton appointed Jones as U.S. attorney in Birmingham in 1997. Jones led a team of federal and state attorneys during trials that resulted in the convictions of Thomas Blanton Jr. in 2001 and Bobby Frank Cherry in 2002.
Last year, Jones was among the speakers who urged Alabama's parole board to refuse an early release for Blanton. The board agreed, and Blanton remains in prison serving life for murder.