Doritos recall: Spicy Sweet Chili flavor may have undeclared milk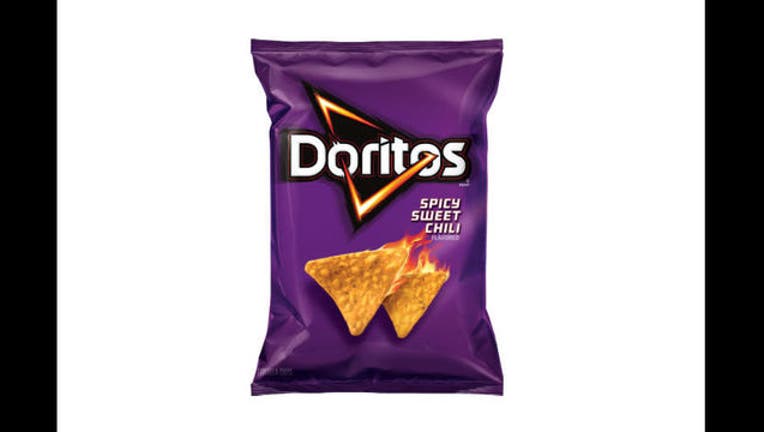 article
Frito Lay is recalling some bags of Doritos, but Nacho Cheese and Cool Ranch fans can rest easy. The recall is limited to Spicy Sweet Chili Doritos because they may contain undeclared milk ingredients.
People who have an allergy or severe sensitivity to milk run the risk of an allergic reaction. The recalled Doritos also include additional undeclared ingredients, including: Yellow 5, Artificial Flavor, Tomato Powder, other Artificial Color (including Yellow 6 and Red 40), Lactic Acid, Citric Acid and Red and Green Bell Pepper Powder.
No confirmed illness has been reported to date and no other Doritos products or flavors are impacted.
The recalled chips products are 3 1/8 oz. bags of Spicy Sweet Chili Doritos that have a "guaranteed fresh" date of August 9, a UPC code of 28400-42119 and a manufacturing code of 2711 152 05  OR  2712 152 05. The "guaranteed fresh" date and manufacturing code are located on the front of the package, and the UPC code is located on the back. The recalled products were distributed in Georgia, Kentucky, North Carolina, South Carolina, Tennessee, Virginia and West Virginia. No other states have been impacted.
The recall was triggered when they found a select number of Spicy Sweet Chili Doritos bags were inadvertently filled with Nacho Cheese Doritos.
Consumers with any recalled Doritos can return the product to a retailer for a full refund, or contact Frito-Lay Consumer Relations at 1-800-352-4477 (9 a.m. – 4:30 p.m. CST, Monday-Friday).