Democrats pray for Republican colleagues after Congressional baseball practice shooting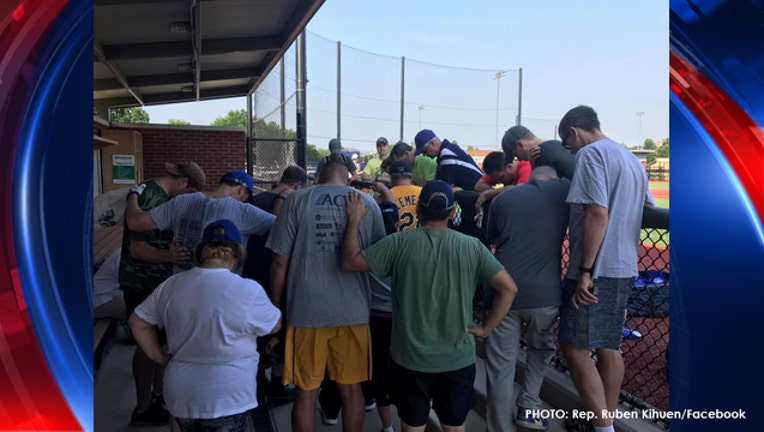 article
ALEXANDRIA, Va. - What started as a regular, early-morning baseball practice at Eugene Simpson Stadium Park in Alexandria, Virginia Wednesday morning quickly turned terrifying after shots were fired, and House Majority Whip Steve Scalise (R-LA) was hit, along with three others including a U.S. Capitol Police officers. In all, about 25 members of Congress from both parties were there taking part in preparation for a charity baseball game scheduled for Thursday at Nationals Park.
After the shooting stopped, Democrats who were practicing at the same field gathered in a dugout to pray. A photo posted on social media by Rep. Ruben J. Kihuen (D-Nevada) shows the group huddled in a dugout with their heads bowed. On Facebook, Rep. Kihuen wrote along with the photo,"Me and my House Democrats colleagues saying a prayer for our House Republicans and Senate GOP baseball colleagues after hearing about this morning's horrific shooting at their practice field."
Scalise and several others, including Congressional aides and members of his security detail, were wounded in the shooting, which happened around 7:30 a.m. at Eugene Simpson Stadium Park on East Monroe Avenue in Alexandria. U.S. Capitol Police said officers who were part of Scalise's security detail returned fire and killed the shooter.
Other members of Congress who were at the field at the time of the shooting described seeing a rifle through a fence when they heard shots being fired. 
FULL COVERAGE: House Majority Whip Steve Scalise, several others, shot during congressional baseball practice
Alexandria gunman wanted to kill congressmen, Rep. Mo Brooks believes
Steve Scalise Shooting: Lawmakers react to shooting of House Majority Whip
Democrats pray for Republican colleagues after Congressional baseball practice shooting
Trump: Capitol Police officers saved lives after Congressional baseball practice shooting
James T. Hodgkinson: Who is the Alexandria gunman who opened fire on congressmen?