Dem Rep. Al Green says he'll force vote to impeach Trump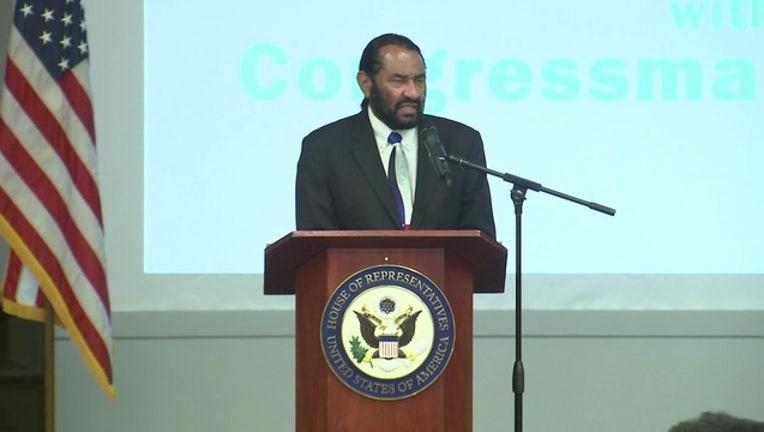 article
WASHINGTON (AP) - A liberal Democrat is putting the House on track for a likely vote Wednesday on impeaching President Donald Trump, an effort that's certain to lose and has drawn opposition even from many in his own party.
"Friends, whether we like it or not, we now have a bigot in the White House who incites hatred and hostility," Rep. Al Green, D-Texas, wrote in a letter to colleagues Tuesday explaining his proposal. He added, "The question isn't whether we have a bigot as president. The question is: What are we going to do about it?"
Green said he'd introduce his resolution on Wednesday under a rule that requires the chamber to vote on the issue within two days. If he follows the proper procedures, Republicans will hold a vote on tabling - in effect killing - the proposal during the House's first series of votes on Wednesday, said a GOP leadership aide who spoke on condition of anonymity to describe a decision by party leaders.
Green's effort is certain to be opposed by all Republicans.
Minority Leader Nancy Pelosi, D-Calif., is among many Democrats who also oppose the idea. With special counsel Robert Mueller and congressional committees investigating connections between Russia and Trump's 2016 campaign, Pelosi has said any impeachment drive should wait until there's evidence of an impeachable offense.
Another problem for Democrats is that opposing Green's resolution puts them at risk of angering many of the party's rabidly anti-Trump voters.
Some Democrats have tried talking Green out of offering his plan. They did the same thing in October, when he proposed a similar resolution but never demanded a vote on it.
His new eight-page resolution accuses Trump of "high misdemeanors," citing "harm to American society to the manifest injury of the people of the United States."
The impeachment articles cite incidents including Trump's defense of protesters after a rally of white supremacists at this year's riot in Charlottesville, Virginia; his recent sharing of hateful, anti-Muslim videos posted online by a fringe British extremist group; his efforts to ban Muslim immigrants and his opposition to letting transgender people serve in the military.