Crews lament longer fire season that spawns erratic blazes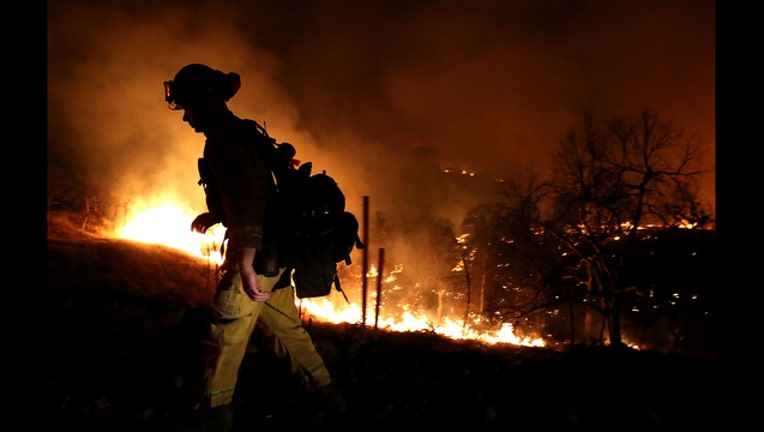 article
ANDERSON, California (AP) - Exhausted and hungry, some 12,000 firefighters are working 24-hour shifts battling deadly California wildfires and becoming resigned to fire seasons that start earlier, burn longer and unleash increasingly unpredictable blazes.
"There's a lot going on up here, endless fires, and they're all characteristically pretty much the same - windy, hot and dry," firefighter James Sweeney said before heading out for a meal and a nap.
Sweeney, from St. Petersburg, Florida, is a "hotshot," part of an elite team of highly trained wildland firefighters who spend fire season battling the fiercest blazes in the country.
Weary after more than a day on the fire lines, the 43-year-old said when his Gila, New Mexico-based crew does leave California, he expects to go north into Oregon, where new fires are kicking up.
"These days it's crazy," he said. "We give up our whole life all summer."
Crews made progress this weekend on the Carr Fire near Redding, about 230 miles (370 kilometers) north of San Francisco. But it was still threatening thousands of homes and was not expected to be fully contained until mid-August at the earliest.
For many of the firefighters slamming down 9,000-calorie meals between shifts, the nonstop effort has become routine.
Last year, a fast-moving series of fires in Santa Rosa, just north of San Francisco, and elsewhere in Northern California killed 44 people and destroyed more than 8,000 structures. Last December's Thomas Fire near Santa Barbara burned almost 282,000 acres (440 square miles), becoming the largest wildfire in California history.
In his 19 years on the job, Cal Fire Capt. Chris Anthony said the most significant change is that hotter, drier conditions now mean that firefighters are trained to take a "tactical pause" to reconsider before charging in against the flames.
"Fire has become a lot more unpredictable," he said. "In the past we could plan, but these days a fire can take a sudden and deadly turn."
That's what happened Thursday, when the fire near Redding pivoted and exploded in size, taking down hundreds of homes and killing five people, two of them firefighters. Another firefighter was killed earlier in the month battling a giant fire near Yosemite National Park.
Firefighter Jason Campbell was on the front lines Thursday near Yosemite when the Carr Fire destroyed his home, an RV and a boat near Redding. Redding Police Chief Roger Moore also lost his home.
Capt. Jarrett Grassl, a 19-year veteran who works for the Higgins Fire District in Northern California, said his crew ran into homeowners trying to save their own properties. The threat to homes reflects the shrinking divide between wilderness and urban areas.
"Every year it seems to be a bigger problem," Grassl said Saturday, in 110-degree weather with zero precipitation.
Shasta County Sheriff Tom Bosenko said he can see the fatigue on the faces of the firefighters when they come in to refuel.
"What really helps to encourage them is a thank you," Bosenko said Sunday. "Maybe something posted near the fence that gives them encouragement ... that is a big plus for the firefighters that are coming in to recover."
Fighting wildfires is almost always dangerous and grueling, but experienced firefighters said the Carr Fire has been even hotter, drier and more erratic than they are accustomed to.
Crews used shovels, hoses and chain saws to corral giant walls of flame that burned through canyons and up steep gulches. The air was thick with smoke and dust as they hauled heavy gear up and down unstable hillsides, grabbing gulps of water whenever they could. They largely worked in silence, with the sound of crashing tree limbs and roaring flames drowning out radios.
Nevada County Fire Capt. Nathan Menth calls California's weather system "the prolonged summer." Replenishing fire hose gear after spending the night protecting a Redding neighborhood, he said he was surprised by how quickly the fire spread.
"The winds came in," he said. "It was out of control."
But 13 years into his career, that chaos is something he's come to expect.
There was one small bright spot in his last shift. As flames leaped from one pine to the next, creating a canopy of fire, his team stopped its truck in a driveway near scattered oak trees, expecting the wildfire to continue unchecked.
"But this one oak, it slowed it down," he said. "I don't know why, but it just didn't torch off. And that allowed us to turn the fire from those homes, to be proactive instead of reactive."