Chyna died of drug overdose, her manager says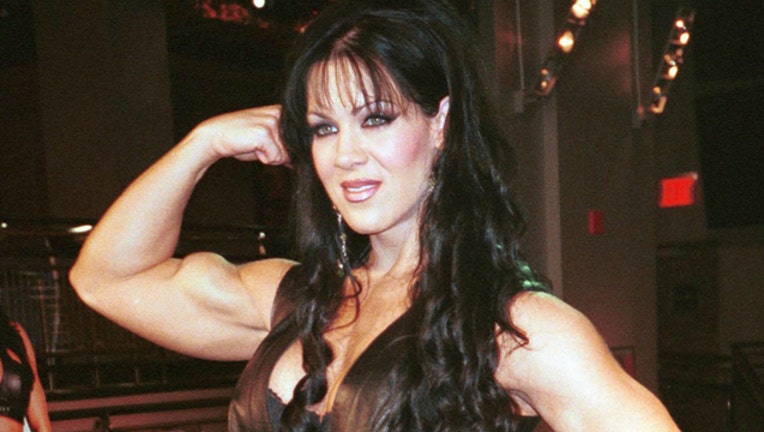 article
CHICAGO (FOX 32 News / AP) - Wrestling star Chyna died last week of an accidental drug overdose after combining Valium and Ambien, her manager says.
Ambien is a sleeping pill and Valium is a sedative that treats anxiety, muscle spasms and seizures. Chyna, whose real name is Joan Marie Laurer, had been taking the legally prescribed pills, but wasn't using them properly, manager Anthony Anzaldo said. He emphasized that her death was an accidental overdose, and not a suicide.
"You are not going to find 60 pills in her stomach," Anzaldo told the LA Times.
The Los Angeles County coroner's office says they will not be able to confirm how Chyna died for weeks or maybe months still.
After graduating college in 1992, Laurer took odd jobs, entered fitness contests and eventually trained to become a flight attendant. Then she discovered the athleticism and theatricality of the mostly male pro-wrestlers on TV and decided she, too, could leap from the turnbuckles.
Within a few years, the 5-foot-10-inch musclebound beauty was outfitted in leather and sparkles and nationally known as Chyna, pro-wrestling's first female superstar, taking on both women and men in the ring.
Seemingly just as quickly, her wrestling career was over, and Laurer struggled to remain in the spotlight — posing for Playboy, revealing her struggles with addiction on reality TV and making several adult films.
Last Wednesday, police found the 46-year-old dead in her Redondo Beach apartment. They were responding to a 911 call from a friend who said the former World Wrestling Entertainment performer failed to answer her phone for a few days.
Investigators didn't immediately release a cause of death but noted there were no indications of foul play. Police initially reported the death as a possible overdose, Los Angeles County's Assistant Chief Coroner Ed Winter said.
Laurer wrote in her 2001 autobiography, "If They Only Knew," that she watched wrestlers on television before she became one. And she would shake her head at how the women were presented as a mere side show
"Wrestling. 'I can do that!' I remember shouting at the TV," she wrote.
She trained at Walter "Killer" Kowalski's wrestling school and eventually claimed she could bench press more than 280 pounds.
The WWE — then known as the World Wrestling Federation — hired Chyna in 1997 as a "bodyguard" for its marquee performer Triple H, with whom she later became romantically involved in real life and in the WWE's scripted story lines. But it was immediately clear the raven-haired Chyna could break through as a star in her own right, said Jack Jorgensen, an editor with the sports and entertainment website Fansided.
"This big woman coming out of the crowd, it was something you'd never seen before," Jorgensen recalled of her first appearance in the ring. "She was polarizing, but she made it OK for a woman to get in there with the men. Even on the theatrical stage that is the WWE, she made it believable that she could compete with a man."
Chyna was billed as the "9th Wonder of the World" because her wrestling predecessor Andre the Giant had already called himself the eighth. She was a member of the WWE squad that dubbed itself "D-Generation X" and at one point was the women's champion.
"She was truly a pioneer in our industry, and she will be missed," tweeted Stephanie McMahon, an owner and executive with WWE who was once a romantic rival.
Laurer wasn't afraid to "blaze her own trail and create a path for those who would follow," Triple H, whose real name is Paul Levesque, said on Twitter. "A pioneer whose star shined bright. #RIPChyna."
After leaving the WWE in 2001, Laurer was determined to stay active in the entertainment industry. She wrote her memoir, became a semi-regular on Howard Stern's radio show and appeared in TV sitcoms like "3rd Rock From the Sun" and reality shows including "The Surreal Life." She was in Playboy twice and appeared in a string of porn movies.
Laurer later came clean about her struggles with drugs on "Celebrity Rehab with Dr. Drew."
Days before she was found dead, Chyna appeared disjointed as she wandered around her apartment wearing headphones and a feather in her hair in a 13-minute video she posted online. She narrated as she prepared and drank a breakfast smoothie, trailing off and occasionally singing into the camera. At one point while surveying the view from her seaside home, she asked, "How lucky am I?"
Her departure from the WWE was never explained. Jorgenson said it was rumored to have occurred after Laurer and Levesque broke up and Levesque became involved with McMahon. They later married.
Laurer's personal troubles prevented her induction into the WWE Hall of Fame, despite her fans' support, Jorgenson said. Following her death, induction is almost a sure thing, he said.
"I would bet the house that she'll go in," he said. "She's just too big of a figure not to."
A statement posted Wednesday night on her website reads, "Today we lost a true icon, a real life superhero. Joanie Laurer aka Chyna, the 9th Wonder of the World has passed away. She will live forever in the memories of her millions of fans and all of us that loved her."
Laurer was a native of Rochester, New York, and graduated from the University of Tampa in Florida in 1992 with a degree in Spanish Literature.
She joins a long list of WWE professional wrestlers who have died relatively young, including Rick Rude, Curt "Mr. Perfect" Hennig, the Ultimate Warrior and Owen Hart.