Bodies of 40 tiger cubs found in Thai temple freezer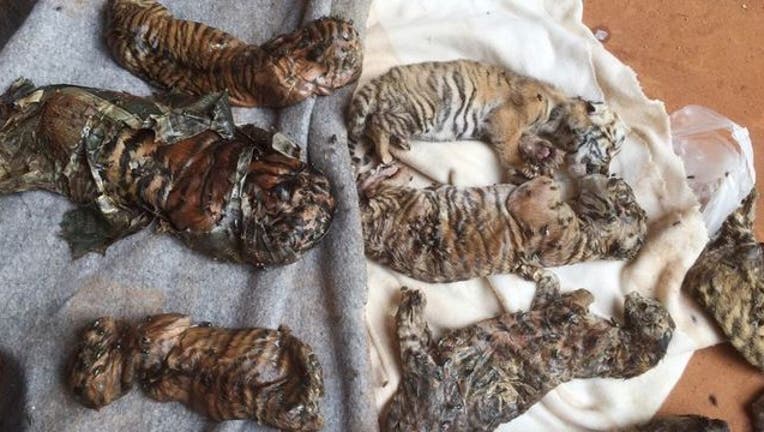 article
BANGKOK (AP) - Forty dead tiger cubs were found Wednesday in a freezer at a Buddhist temple that operated as an admission-charging zoo, a national parks official said.
The discovery happened while authorities were removing mostly full-grown live tigers from the temple in western Kanchanaburi province following accusations that monks were involved in illegal breeding and trafficking of the animals.
The cubs were found in a freezer where the temple staff kept food, said Anusorn Noochdumrong, an official from the Department of National Parks who has been overseeing the transfer of the temple's 137 tigers to shelters. Since Monday, 60 have been tranquilized and removed.
"We don't know why the temple decided to keep these cubs in the freezer," Anusorn said. "We will collect these carcasses for DNA analysis."
The cubs appeared to be up to a week old, he said. Authorities plan to file charges against the temple for illegally possessing endangered species, he said.
The temple's Facebook page said in March that the temple's former vet had decided in 2010 to stop cremating cubs that died soon after birth. Calls to the temple's office were not answered.
The temple, a popular tourist attraction, has been criticized by animal rights activists because of allegations it is not properly set up to care for the animals and flouted regulations restricting the trade of tigers.
The monks resisted previous efforts to take away the tigers, but relented this week after police obtained a court order.
The temple recently made arrangements to operate as a zoo, but the plan fell through when the government determined that the operators failed to secure sufficient resources.