April, zookeepers hunker down during baby watch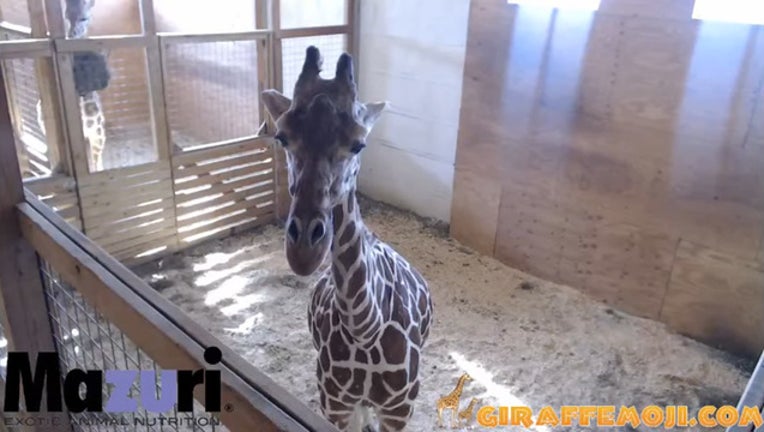 article
HARPURSVILLE, N.Y. (FOX 13) - A time change, a full moon, and a cold snap -- and through it all, the internet is still waiting for April the giraffe to give birth.
The web's most popular expectant mother is "larger than ever," according to a Monday update from keepers at Animal Adventure Park in Harpursville, New York.  The morning check on April revealed "noticeable growth" in her belly, and later, staff began noting and documenting significant changes, but still no sign of active labor.
April became an internet sensation last month when Animal Adventure Park debuted a round-the-clock internet stream of the very pregnant giraffe.  Millions of people have checked out the live feed, observing April and her beau Oliver, while guessing when the baby giraffe will finally arrive.
LINK: Watch the park's feed on YouTube
Because of the giraffe's sudden popularity, they have created a website that centers around April specifically, created a giraffe emoji, and even have an online store to purchase gear.
Now, the Animal Adventure team is hunkering down as a late-season snowstorm bring bitter cold and potentially 18 inches of snow to upstate New York.
RELATED: Zookeeper describes the birth of a giraffe
Whenever it arrives, the giraffe calf will be the first for dad Oliver, but it will be April's fourth.
GIRAFFE FUN FACTS:
Once the calf's hooves appear, labor will be over within 30 to 60 minutes
Full grown giraffes can eat more than 100 pounds of leaves a twigs a day
Male giraffes are taller and heavier than females
The knobs on their heads are called ossicones
Giraffes move both legs on one side of their body as they walk
They can reach speeds of up to 35 mph
Giraffes sleep less than two hours a day
Female giraffes can become pregnant at just 5 years old
They live up to 25 years in the wild
RELATED: