AP FACT CHECK Texas Senate debate Cruz, O'Rourke claims cite taxes, immigration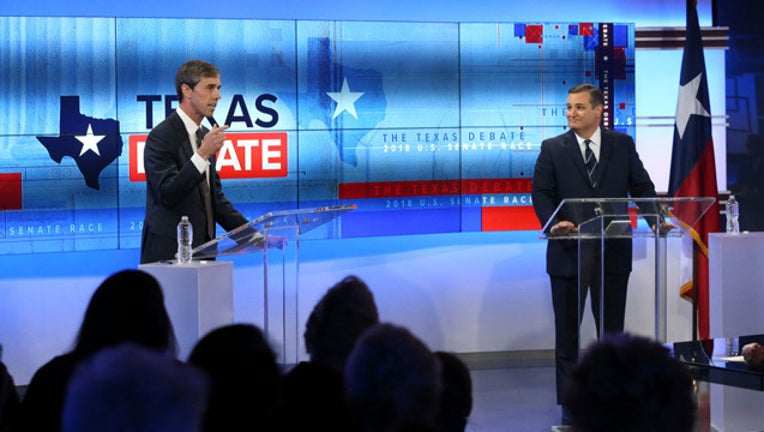 article
Democratic Rep. Beto O'Rourke abandoned his optimistic tone and attacked Republican U.S. Sen. Ted Cruz as "Lyin" Ted in their second debate before the election, borrowing a nickname first used by President Donald Trump.
It was one of the challenger's last chances to gain ground on Cruz, who is leading the polls even though O'Rourke has benefited from national media coverage of his unconventional campaign and a record amount of campaign cash.
A look at claims made in their debate Tuesday in San Antonio:
O'ROURKE: "Ted Cruz invested more than $5 million in Cambridge Analytica, which is the very company that helped to undermine our democracy, to feed false news and false opinions to our fellow Americans."
THE FACTS: Cruz didn't personally invest $5 million in Cambridge Analytica, the campaign consulting firm that was accused earlier this year of misusing data from 87 million Facebook accounts to target voters during elections. But Cruz's 2016 presidential campaign did spend millions of dollars purchasing the group's services.
Federal campaign finance reports show Cruz's presidential campaign committee spent $5.8 million with Cambridge Analytica between July 2015 and June 2016. The firm's work for the campaign included voter targeting, digital media and survey research, according to the Federal Election Commission's records.
In 2016, Cambridge helped the Cruz campaign send direct messages telling Iowa residents who live near red light cameras that the senator opposes their use.
Allegations that the firm improperly accessed personal information from Facebook users surfaced in March of this year, when the New York Times and The Guardian reported on the breach and Cambridge's work with Trump's campaign. Facebook suspended the firm and its CEO Mark Zuckerberg testified before the Senate on the privacy missteps.
A Cambridge Analytica whistleblower said the firm identified voters and targeted them with messages that were true or untrue.
The now defunct company denied allegations that it used Facebook data to develop fake news or that the improperly accessed data was used to help Trump's campaign.
___
CRUZ: "Congressman O'Rourke voted in favor of a $10 a barrel tax on every barrel of oil produced in the state of Texas."
THE FACTS: Cruz's claim sparked a strong reaction from O'Rourke, who said the senator was being dishonest. But Cruz was correct. O'Rourke did cast a vote in the House in favor of such an oil tax that never became law.
The vote in June 2016 was on a symbolic resolution opposing President Barack Obama's proposal to tax $10 on every barrel of crude oil . O'Rourke voted against the resolution, which put him on the record favoring the tax. The Republican-controlled House passed the measure.
___
O'ROURKE: "When the Senate voted to move forward on debate for (young immigrants) Dreamers, 98 Senators showed up that day, 97 voted to move forward. Only one senator voted no."
THE FACTS: O'Rourke is correct. Cruz cast the lone vote against advancing an immigration measure for debate on the Senate floor in February of this year. The debate was over a route to citizenship for young immigrants brought to the U.S. by their parents who were shielded from deportation as part of the Obama-era Deferred Action for Childhood Arrivals program. Recipients of that program are commonly called "Dreamers."
In a speech to Congress, Cruz said he was "flabbergasted with my own party" for considering an agreement that would allow some immigrants living in the U.S. illegally to apply for citizenship.
"I do not believe we should be granting citizenship to anyone here illegally," Cruz said during his Feb. 15 statement on the Senate floor.
While Cruz's Republican colleagues agreed to engage in an immigration debate with Democrats in February, days later the Senate rejected bipartisan proposals to strengthen border security while establishing a permanent solution for Dreamers to avoid deportation.
For years, Cruz has criticized policies that create citizenship pathways for anyone living in the country illegally. In 2016 he said he would work to deport the estimated 12 million immigrants if elected president.
___
CRUZ: "Congressman O'Rourke is the only Democratic Senate candidate in the country who has explicitly come out in favor of impeaching President Trump."
THE FACTS: At least one other Democratic U.S. Senate candidate has publicly supported Trump's impeachment. But other Democratic U.S. Senate candidates have not gone as far as O'Rourke's statement that he would vote to impeach Trump.
California state Sen. Kevin de Leon, who is challenging U.S. Senator Dianne Feinstein in the November election, told The Associated Press earlier this year he would vote to impeach Trump.
On the campaign trail in July, O'Rourke said that he would vote to impeach the president. He made the comment to the Dallas Morning News, a day after Republicans and Democrats alike rebuked Trump's statements about the U.S. intelligence community in a press conference with Russian President Vladimir Putin in Helsinki, Finland.
"Standing on stage in another country with the leader of another country who wants to and has sought to undermine this country, and to side with him over the United States - if I were asked to vote on this I would vote to impeach the president," O'Rourke told the newspaper.
Prior to that, O'Rourke had avoided calls to impeach the president. He twice voted to table a House resolution, introduced by fellow Democrats, to impeach the president in December and January .
___
Find AP Fact Checks at http://apne.ws/2kbx8bd
Follow @APFactCheck on Twitter: https://twitter.com/APFactCheck
A look at the veracity of claims by political figures.