Amber Alert canceled for New York girl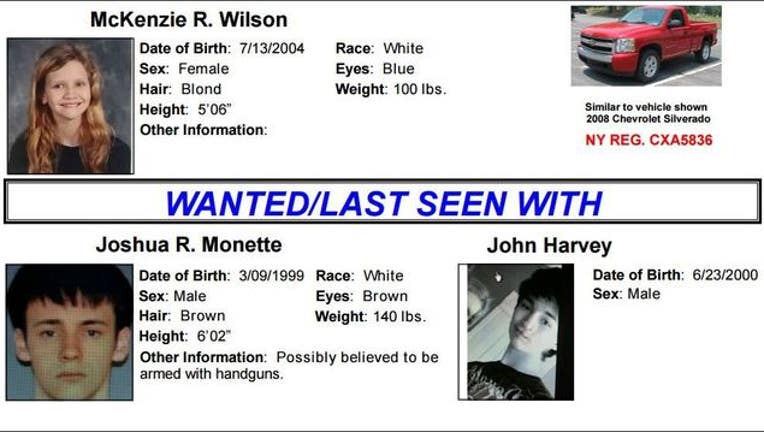 article
NEW YORK (FOX5NY) - BREAKING NEWS UPDATE: New York State Police have canceled the AMBER Alert for McKenzie R. Wilson. Police said she was "safely recovered." Authorities offered no further details.
----
This is the earlier article:
The New York State Police activated the New York State AMBER Alert and is investigating a child abduction that occurred near Shady Lane, in Lyndon, New York at about 5 a.m. on Tuesday, May 23, 2017.
The child, McKenzie R. Wilson is a white female, approximately 12 years 10 months old with straight, blonde hair and blue eyes. She is approximately 5 feet 6 inches and weighs about 100 pounds.
One suspect, Joshua R. Monette is a white male, approximately 18 years old with short, black hair and brown eyes. He is approximately 6 feet 2 inches tall and weighs about 140 pounds. The suspect was last seen wearing camouflage jacket, blue jeans, boots, black shirt, and carrying a black duffel bag.
Another suspect, John Harvey, is a white male, approximately 16 years old with brown hair.
The vehicle has been identified as a red Chevy Silverado pickup truck with New York license plate number CXA5836. The extended cab vehicle was stolen from the vicinity of the abduction and had a black bow tie on the front grille.
There are fears they are possibly heading for the Allegany Mountains.
Police say the suspects took the child under circumstances that lead police to believe she is in imminent danger of serious bodily harm or death.
The suspects are believed to be armed with handguns.
Anyone with any information on this abduction is asked to call the New York State Police Machias at (866) NYS-AMBER or dial 911 to provide information on a report or sighting.