3 USA Gymnastics leaders resign amid Nassar sexual abuse case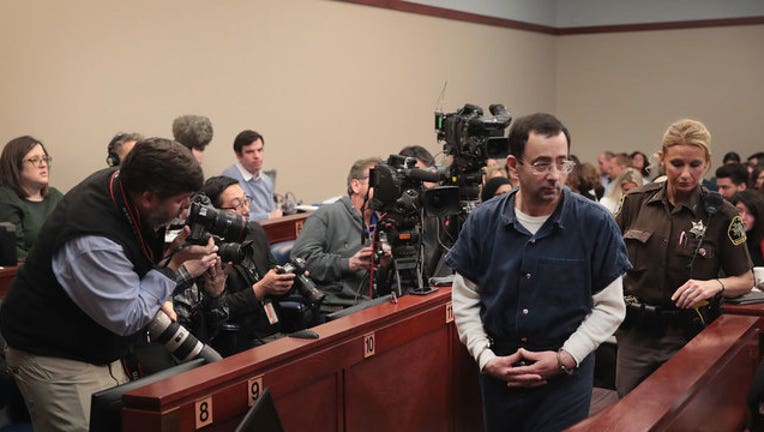 article
(WJBK) - Three members of USA Gymnastics Board of Directors including the chairman announced their resignations Monday following several days of testimony from Larry Nassar's sexual abuse victims.
Chairman Paul Parilla, Vice Chairman Jay Binder and Treasurer Bitsy Kelley have resigned effective Jan. 21.
"We support their decisions to resign at this time. We believe this step will allow us to more effectively move forward in implementing change within our organization," Kerry Perry, president and CEO, said in a statement. "As the board identifies its next chair and fills the vacant board positions, we remain focused on working every day to ensure that our culture, policies and actions reflect our commitment to those we serve."
Nassar to hear yet more victims' testimonies
The announcement comes as dozens and dozens of young women make statements during Larry Nassar's sentencing hearing that's now reached day five. With each day of testimony, more survivors want to tell their stories publically. A total of 144 victims are expected to speak on how Nassar sexually abused them while he was employed by Michigan State University and USA Gymnastics, or USAG.
Among those who spoke were Olympianis McKayla Maroney, Jordyn Wieber and Aly Raisman, who called out USAG for what they felt was a lack of action.
Nassar complains about hearing victims, 5 more women ask to speak at sentencing
Perry released a statement last week saying she went to hear the victims speak, and that "their powerful voices leave an indelible impact on me and will impact my decisions as President and CEO every day."
USAG announced last Thursday they have terminated their lease at their national team training site, Karolyi Ranch, where Nassar committed sexual abuse.
Aly Raisman gets fierce with Nassar, USOC, and USA Gymnastics
"Continuing to release statements of empty promises thinking that will pacify us will no longer work," Raisman said.
Perry was named president in November 2017, after Nassar worked with the team.
Sexual abuse survivor confronts MSU president during Larry Nassar sentencing
Former President Steve Penny quit last March after critics said the organization failed to protect gymnasts from abusive coaches and Nassar.