2023 Houston Mayor Race headed to runoff election: AP reports
HOUSTON - The race to become the 63rd Mayor of the City of Houston will continue for almost another month, according to the Associated Press.
That's after no candidate was able to receive at least 50% of the overall vote for the election. 
CLICK HERE FOR LATEST ELECTION RESULTS
The runoff, which will take place on December 9, will include State Senator John Whitmire and Congresswoman Sheila Jackson Lee.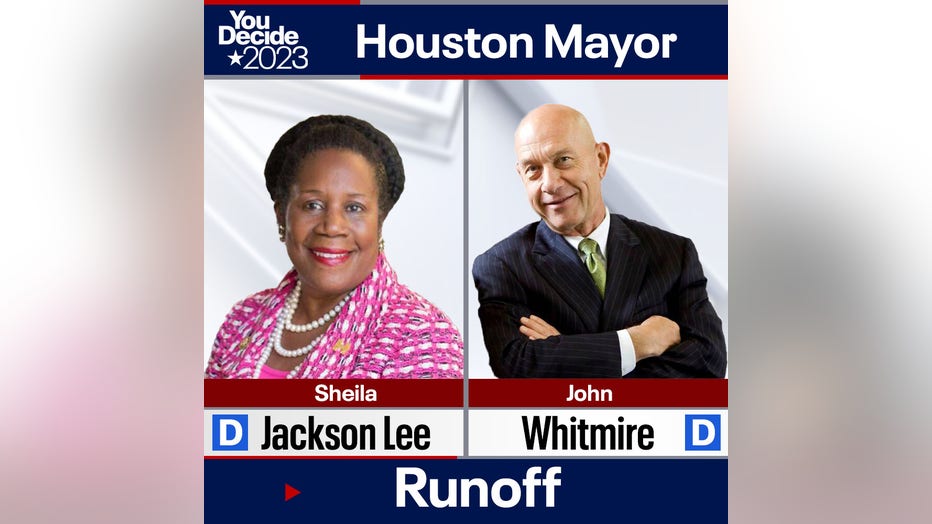 FOX 26 has scheduled a debate that will air on FOX 26 on November 27, and will feature the candidates. 
LATEST TEXAS CONSTITUTIONAL AMENDMENTS RESULTS
Whitmire has campaigned that he will focus on areas including public safety, a strong economy, streets, water and drainage, city services, and bringing Houston together, as mayor. 
Jackson Lee said as the next Houston Mayor she will focus on safer neighborhoods, better streets, and an economy built around working families in the city of Houston. 
FOX 26 Houston is now on the FOX LOCAL app available through Apple TV, Amazon FireTV, Roku, Google Android TV, and Vizio!
FOX 26 is your station with the latest Houston mayoral election coverage. We'll have the latest on the race all the way up until runoff election day.