Nebraska dogs provide comfort after tragedies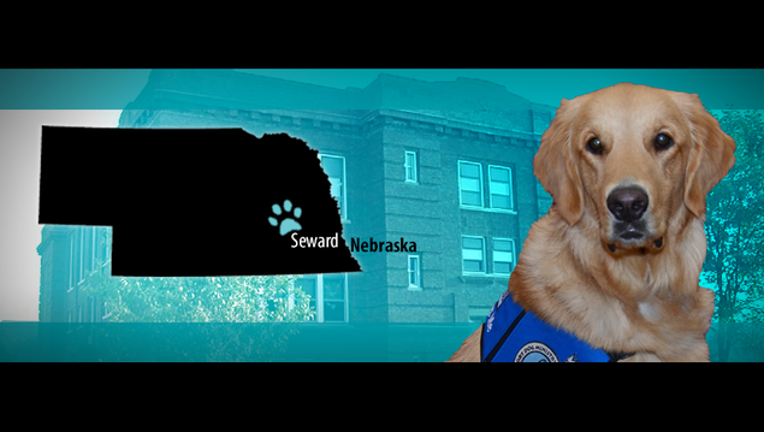 article
OMAHA, Neb. (AP) - Natalia Baca, one of the Las Vegas shooting victims, had a hospital visitor that she will never forget.
Nicodemus, or Nico, a golden retriever from Seward, Nebraska, jumped onto her bed, much to her delight.
"It was really cool, 'cause I like dogs," said Baca, 17, of Las Vegas. "When they had to go, he didn't want to leave."
Nico is one of five Nebraska dogs in the Illinois-based Lutheran Church Charities Comfort Dog program, which has more than 100 golden retrievers in 23 states trained to be stroked, loved, cried upon and held, the Omaha World-Herald reported.
About 20 of the dogs from around the nation went to Las Vegas after the Oct. 1 shootings that killed 59 people and injured hundreds.
The comfort dogs aren't trained to look for bodies or search for anything other than the pats and hugs of those they encounter. And they get plenty of those.
Nico and other comfort dogs in the program went to Sunrise Hospital in Las Vegas, where Nico met Baca. Baca and her twin sister, Gianna, were shot but are out of the hospital and doing well.
The dogs and their handlers also went to the Las Vegas emergency dispatch center, the coroner's office, firehouses, schools, vigils and other places and events.
They met people who fled the shooting, people who treated the victims, a woman who cleaned the purses and billfolds of the dead, and a hotel valet who was so pleased to meet Nico that she went to the ground with him.
One of Nico's handlers, Corey Gray of Concordia University in Seward, said the valet called it "the first time I've felt normal since it happened."
Nico's job "is to be the bridge for people to find comfort," said Gray, director of career development and retention at Concordia. "He's pretty good at his job."
Each comfort dog has multiple handlers. Through more than 2,000 hours of training, the dogs learn that they must be responsive to more than one handler, said Tim Hetzner, CEO of Lutheran Church Charities in Northbrook, Illinois.
Three of Nico's Seward handlers went to Las Vegas with him: Gray, Seward health coach Danna Seevers and retiree Marcia Newsome. Newsome's husband, Randy, is the "top dog" for Nico. That means he keeps Nico's calendar and is a main handler of the dog. Nico spends the night at the Newsomes' house, sleeping in a kennel in the living room. Nico has nine handlers in all.
Hetzner started the comfort dog program after a couple of events years ago.
He said it struck him how devoted the victims of Hurricane Katrina in Louisiana were to their pets in 2005.
Hetzner said Lutheran Church Ministries then took some dogs to Northern Illinois University after a shooting spree there in early 2008, and students asked them to bring the dogs back in May of that year.
Hetzner decided shortly after that to start the comfort dog program.
The Lutheran Church Charities Comfort Dogs are always golden retrievers.
"Golden retrievers by nature are a very loving dog, they're a very smart dog," Hetzner said. They are willing to sit with people and lie down with them. They let people hug them.
The handlers undergo three days of training and learn about 50 commands for their dog. They include commands to put paws up on a bed, to rise onto a bed, to crawl under a table, to put paws and head in a lap, to stay on a mat and to go to the bathroom.
The handlers generally are supposed to listen rather than talk. It's the dog's show.
"It's just a very gentle ministry," Marcia Newsome said. "The stress would come out; the trauma would come out (in Las Vegas). Numerous times people just started sobbing."
If a person goes to the ground in grief, the dog knows to lower itself, too.
Sometimes the handlers ask whether a person wants to pray with them.
They worked long days in Las Vegas, into the evening. They were there for close to a week.
"It was amazing," Seevers said. "It was very, very difficult. It was very emotional. It was very stressful."
Marcia Newsome said Nico was wiped out and slept for much of two days after they returned to Seward.
Nicodemus is named after a character in the Book of John. His vest contains his name and the words "Please pet me."
The comfort dogs go to natural disasters and man-made tragedies. They also have standing schedules in their local areas. They go to nursing homes, assisted living centers, schools and colleges.
The Rock Lutheran Church of Seward sponsors Nico. There is no charge for Nico's service or that of his handlers.
Nebraska has five comfort dogs. Besides Nico, there is Katie of Fremont, Moses of Cairo, Eddie of Grand Island and Priscilla of Lincoln. Priscilla didn't go to Las Vegas. Iowa has one comfort dog, Gracie, of Davenport. Gracie didn't go to Las Vegas.
The dogs lead structured lives with specific diets. They walk 2 miles, twice a day.
They aren't supposed to spend time with dogs that aren't comfort dogs.
They are trained to listen carefully to their handlers.
When their vests come off, they know it's playtime. Nico loves to chase balls, but at 19 months of age, he's still learning how to catch.
He has his own Facebook page - Nicodemus Comfort Dog. There's a video on that page in which the camera is trained mainly on Nico, playing and chasing balls with other comfort dogs in Las Vegas. Nico slides into a wall while chasing a ball.
Sometimes Nico gets peanut butter in a hollowed-out ball.
But when the vest goes on, Nico and the other comfort dogs know it's time for business.
___
Information from: Omaha World-Herald, http://www.omaha.com
An AP Member Exchange shared by the Omaha World-Herald.