Warriors lead 2-0 over Cavaliers in NBA Finals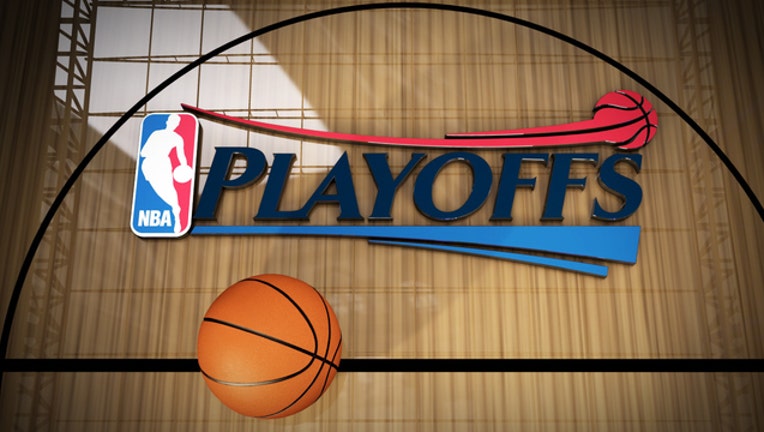 article
OAKLAND, Calif. (AP) - Draymond Green emphatically flexed his bulging biceps with big plays on both ends of the floor, and these Golden State Warriors might just be far too strong for the Cleveland Cavaliers.
That repeat title Golden State has spoken of since the very start more than eight months ago is suddenly two wins from reality.
It will be the only way the Warriors' record-setting season ends right. For now, they sure seem unstoppable.
Green had 28 points with five 3-pointers, seven rebounds and five assists, while MVP Stephen Curry scored 18 points despite foul trouble, and Golden State thoroughly overwhelmed Cleveland 110-77 in Game 2 of the NBA Finals on Sunday night.
"There's no point in celebrating or jumping up and down saying, 'Look at us.' We're two games away from winning a championship, but we still have to go out and get the job done," Curry said. "It's a trap to think that we've figured things out, that we have the perfect formula to beat Cleveland and they have no chance in the series. That's not how we're supposed to think."
The 33-point win was the Warriors' most lopsided ever in a finals game — and they have won the first two by a combined 48 points.
"They just beat us," LeBron James said. "We didn't win anything. No points of the game did we beat them in anything."
Once the Splash Brothers found their shooting touch, Cleveland couldn't keep up. Klay Thompson got hot after halftime to finish with 17 points as Golden State became the first team to go ahead 2-0 in the finals since the Lakers in 2009 against Orlando.
Now, the series shifts to Cleveland, and James and the Cavs must show up for Game 3 on Wednesday in front of their title-starved fans down 2-0 to the defending champs and with forward Kevin Love dealing with a head injury.
"We've got to be tougher," Cavs coach Tyronn Lue said.
The NBA said Love experienced dizziness early in the second half and left for the locker room to be re-examined, then was placed in the NBA's concussion protocol. He hadn't exhibited any symptoms before then, even after taking an elbow to the back of the head from Harrison Barnes in the second quarter and going down for several minutes before returning following a timeout. He immediately made a baseline 3-pointer for the Cavs' first basket in nearly 5½ minutes.
After a scoreless first quarter when he missed all five shots but had five assists, James scored 14 of his 19 points in the second and also finished with nine assists and eight rebounds, but seven turnovers — and he took the blame. James' teams had won nine straight postseason Game 2s after losing the series opener dating back to a loss in the 2008 Eastern Conference semifinals to Boston.
"I'm definitely surprised at the margin of victory tonight," Warriors coach Steve Kerr said. "It happens in the NBA, sometimes things get away from you. Sometimes shots go in, sometimes they don't. ... Everything changes when we go to Cleveland, we know that."
After Curry and Thompson combined for only 20 points in Thursday's 104-89 Game 1 win on 8-for-27 shooting and the bench carried the load, they each hit four 3-pointers and went 13 for 24. And Curry got a postgame treat: He exchanged jerseys with Barcelona and Brazil soccer star Neymar.
Green shot 11 for 20 and made 5 of 8 3-pointers, sparking a suggestion he might apply to be a Splash Brother alongside fellow All-Stars Curry and Thompson.
"Stop it," Green said with a chuckle.
"Tonight, he's one of us," Thompson said.
The Warriors' 87 victories matched the 1995-96 Chicago Bulls, the team Golden State topped for the most regular-season victories in NBA history with 73.
Andrew Bogut had four of his five blocks — Golden State had nine overall — in the first 7:15 and received a standing ovation when he came out with 3:50 left in the first. He went to the locker room late in the quarter after having hit his hand on the rim early and grimacing in pain.
Green credited the defense for holding down James and Co.
While the outspoken swingman insists he just wants rings and isn't yet ready to consider the Warriors among the best of all time, the typically quiet Thompson let loose a little.
"We're better than the Showtime Lakers," he quipped, a friendly jab at former power forward father, Mychal.
OUCH
Andre Iguodala, the 2015 finals MVP, took another hard hit to the groin in the first quarter on an offensive foul called against James, causing the Warriors forward to grimace in pain. Matthew Dellavedova got Iguodala in the same area in Game 1.
REMEMBERING THE GREATEST
A moment of silence was held for late boxing great Muhammad Ali, who died Friday night at an Arizona hospital. Photos of Ali showed on the main scoreboard ahead of the national anthem.
TIP-INS
Cavaliers: James' career-best 25 straight postseason games scoring 20 or more points was snapped. ... James played in his 194th postseason game, passing Karl Malone and Danny Ainge (193 each) for 10th place on the career list. His first-quarter steal also moved James past John Stockton (338) at fourth place for career postseason steals.
Warriors: Bogut's four blocks in the first were the most in one finals quarter since Ben Wallace's five for Detroit during Game 3 against San Antonio in 2005. ... The Warriors committed six of their 21 turnovers in the first quarter alone after having only nine all of Game 1.