Warriors beat Rockets 115-106, take 2-0 series lead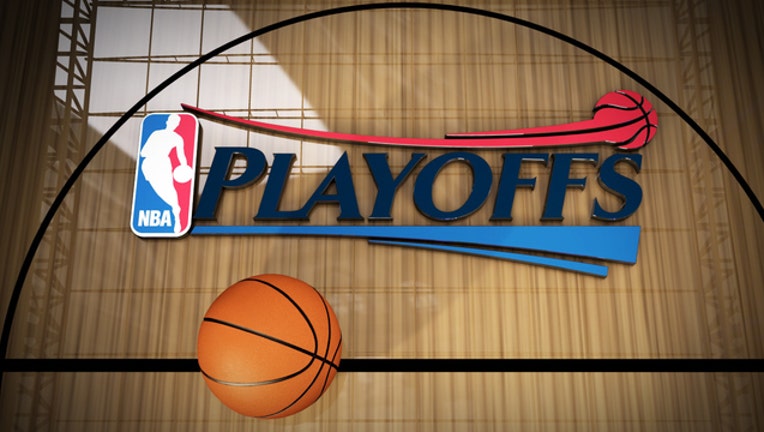 article
OAKLAND, Calif. (AP) - As Stephen Curry emphatically waved his arms to ignite the crowd and coached from the bench when he could do little else, Klay Thompson and the Golden State Warriors' supporting cast picked up the slack for their absent NBA MVP to hold off the Houston Rockets 115-106 on Monday night and take a 2-0 lead in their playoff series.
Thompson scored 34 points and dished out five assists for the defending champions, playing without Curry because of an injured right ankle. Curry cut short his pregame warmup routine after appearing to be in discomfort as he was shooting while putting little pressure on the tender ankle.
Andre Iguodala, last year's Finals MVP, added 18 points with four 3-pointers and Draymond Green had 12 points, 14 rebounds and eight assists.
Now, Curry has until Thursday's Game 3 in Houston to get healthy.
James Harden had 28 points and 11 assists to lead the Rockets, losers of six straight and 14 of 15 to Golden State. He made 13 of 15 free throws after not attempting one in the opener.
Curry realized he should sit out a game if playing might risk further damage to his troublesome right ankle — even in the playoffs when he has been at his best. He already had two surgeries on the ankle during 2011-12 and wants to avoid another.
The Warriors had waited to make a final decision on Curry's status until he tried to warm up, then made the announcement about an hour before tipoff. He didn't take part in the morning shootaround on Monday or practice on Sunday after getting hurt late in the first half of his team's Game 1 win Saturday.
"Obviously, if it's not right and at risk of further injury or whatnot, that's the only thing that I think we have to worry about," Curry said after Saturday's game. "Pain tolerance and all that stuff, I kind of know what I can deal with on the court, but you don't want anything more serious to happen favoring an ankle or whatnot."
Shaun Livingston moved into the starting lineup in Curry's place. Livingston, who left Sunday's practice with an illness, averaged 6.3 points and 3.0 assists this season.
"There's a smaller margin for error," coach Steve Kerr said of the Warriors playing without their superstar point guard.
Curry received treatment Sunday and Monday. He took the court some 90 minutes before tipoff and first went through his normal dribbling session before he started shooting.
At one point, Curry lined up to try a long jumper from the right wing but didn't release the ball and hopped in apparent pain before throwing the ball in the air, clearly frustrated. He left the court at Oracle Arena moments later.
Kerr said he and Curry had a long chat earlier in the day.
"We will definitely err on the side of caution. If he's not right, then he's not going to play," Kerr said. "It's not worth risking turning this into a long-term issue. ... We had a good conversation today before shootaround. Steph is a very rational person. He's easy to speak with. We kind of went over the different scenarios. He understands we have, first of all, his best interest at heart, his career. We know that he had surgery on that ankle four years ago. He's got a lot of basketball ahead of him. ... I do know that we have to look after his health because the competitor that he is he's going to want to play."
Curry injured the ankle when he landed awkwardly Saturday. He tried to come back in the second half before being quickly pulled by Kerr, who noticed Curry wasn't right.
"I'm preparing as if he's not going to play because you don't want to be surprised at a game-time decision," teammate Klay Thompson said earlier Monday. "So we're preparing as if he's not going to be out there."
Golden State already beat the Rockets once this season without Curry, winning 114-110 in Houston on Dec. 31. Thompson picked up much of the scoring load with 38 points that game and Andre Iguodala added 20.
"I think their small lineup is still unconventional," interim Rockets coach J.B. Bickerstaff said. "They still have guys that can shoot it and can score, and guys that move well without the ball. I think their system doesn't change. They'll still play the same way. They'll push it at you, they'll still shoot a ton of 3s. They'll continue to move. So you have to be prepared for that."
Thompson said it would take more than just him to replace Curry's league-leading 30.1 points per game and everything else he offers.
"Obviously 30 points out of the lineup, a lot of playmaking, a lot of easy buckets," Thompson said. "We just have to do it in a more meticulous way as far as moving the ball, being more patient. Without Steph in the lineup, we don't have those easy looks in transition he usually gives us. We just got to do it even more as a team now and rely heavily on our defense and get out on transition."
___
AP Sports Writer Josh Dubow contributed to this report.