Vikings trade for Eagles QB Sam Bradford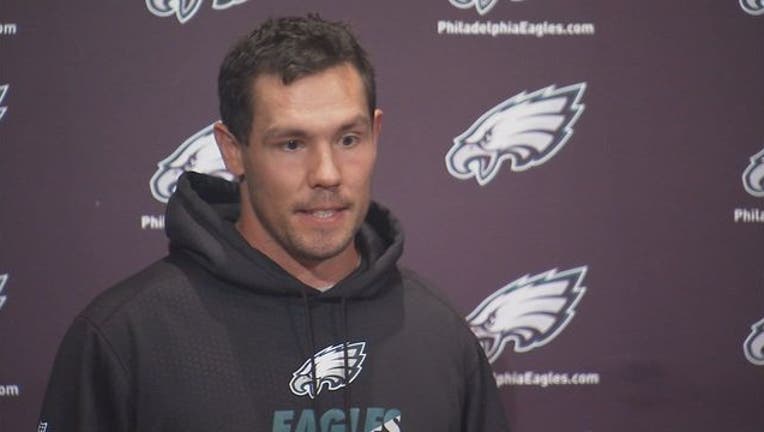 article
The Minnesota Vikings have traded for Philadelphia Eagles quarterback Sam Bradford. The Vikings are giving up a 2017 first round pick and 2018 fourth round pick to acquire Bradford, according to the Eagles. The trade was first reported by ESPN's Adam Schefter.
The Vikings lost quarterback Teddy Bridgewater to a dislocated knee and torn ACL during a non-contact drill in practice last week. TEDDY BRIDGEWATER STATEMENT: 'My purpose will not be denied'
The Vikings announced Bradford will wear No. 8 in Minnesota.
During Thursday night's preseason win over the Los Angeles Rams, Vikings general manager Rick Spielman gave all indication the team would head into the year with Shaun Hill at quarterback.
"People think we're desperate," Spielman said. "We're not going to do something that, in my estimation, in talking with coach and our ownership, puts us in a situation that jeopardizes the future of the franchise."
Bradford has a two-year, $36 million contract, with $22 million guaranteed for this season. The Eagles drafted North Dakota State quarterback Carson Wentz with the No. 2 overall pick in this year's draft.
Eagles Insider reports Philadelphia general manager Howie Roseman wasn't "dangling" Bradford, but rather "Minnesota kept calling and calling and the deal got done."
Quite the comparison
Sam Bradford had 3,725 yards passing, 19 touchdowns and 14 interceptions in 14 games with the Eagles in 2015. He had a completion percentage of 65 percent and a passer rating of 86.4.
Teddy Bridgewater had 3,231 yards passing, 14 touchdowns and 9 interceptions in 16 games with the Vikings in 2015. He had a completion percentage of 65.3 percent and a passer rating of 88.7.
Can Bradford finish the season?
Since being drafted No. 1 overall by the St. Louis Rams in 2010, Sam Bradford has played a full 16-game season just twice – his 2010 rookie season and the 2012 season. Bradford missed two games last season with a concussion and separated shoulder suffered during a sack in a loss to the Miami Dolphins.
Vikings make final cuts
On Saturday the Vikings made the following roster moves:
Released:
DT Kenrick Ellis
Waived:
G Willie Beavers
WR Moritz Böhringer
T Carter Bykowski
TE Kyle Carter
G Isame Faciane
WR Isaac Fruechte
LB Jake Ganus
RB C.J. Ham
DT Toby Johnson
DE Zach Moore
DE Denzell Perine
RB Jhurell Pressley
DT Travis Raciti
FB Blake Renaud
CB Tre Roberson
QB Brad Sorensen
QB Joel Stave
LB Brandon Watts
DE Stephen Weatherly