Texans coach O'Brien on Brown: "I support his individual right to do that."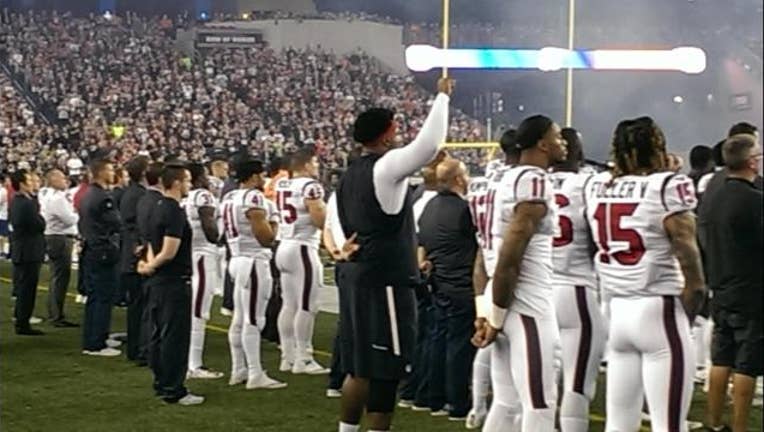 article
Houston - It took three games for a Texans player to take a stand against the recent string of police shootings of African Americans. That player was Duane Brown.
The Texans Pro Bowl left tackle, who has not played this season due to injury, raised his fist during the National Anthem before the Texans 27-0 loss to the Patriots.
Brown says he made the statement "To raise awareness for the recent killings of unarmed black men."
During Bill O'Brien's news conference on Friday, the Texans head coach offered his support of his decorated offensive lineman.
"I understand that there's a lot going on in this country right now, and that we all have strong opinions about it," O'Brien said. "Duane Brown expressed himself during the Anthem, which is his right. It is his right of free speech. It's his right to do what he did during the Anthem last night, and I support his individual right to do that."
O'Brien, who is in his third season as the Texans coach, pointed out the franchise's documented support of the military and its veterans.
"As an organization, we encourage them to stand for the National Anthem because of all the things I just said. I think very highly of all of our players. I know that they're very thoughtful guys and they'll do what they believe is right."
The knee injury which has forced Brown's absence is expected to keep him out for next Sunday's home game against the Titans. However, O'Brien speculated that Brown could potentially return for the Texans October 9th road game against the Vikings.
But before he ever steps onto the field, Brown's pregame statement has immediately thrust him into the spotlight.
"It's frustrating," he said after the game. "I think I've showed my position. I wrote an article about it before. It keeps happening. I know it's not a comfortable topic. It's not comfortable for everyone to see it come from a person in our position in this league, but I can handle it."
Brown is the latest in a group of players which includes 49ers quarterback Colin Kaepernick, Dolphins running back and ex-Texan Arian Foster, and Seahawks cornerback Richard Sherman to take a stand against the police shootings.
"It's something that needs to be changed, and I was just showing my support," Brown said.
On September 16, Terrence Crutcher, an unarmed African-American man, was shot to death by white police officer Betty Shelby in Tulsa, Oklahoma. The shooting was caught on police cams. Shelby's attorney claims Crutcher was not obeying her commands and she feared he was reaching for a weapon.
On September 20th, Keith Lamont Scott was shot and killed by police in Charlotte, North Carolina. Police say Scott had a gun. His family claims he was unarmed and was reading a book while waiting for his son to be dropped off from school.