Season-ending torn knee ligament for Texans receiver Will Fuller V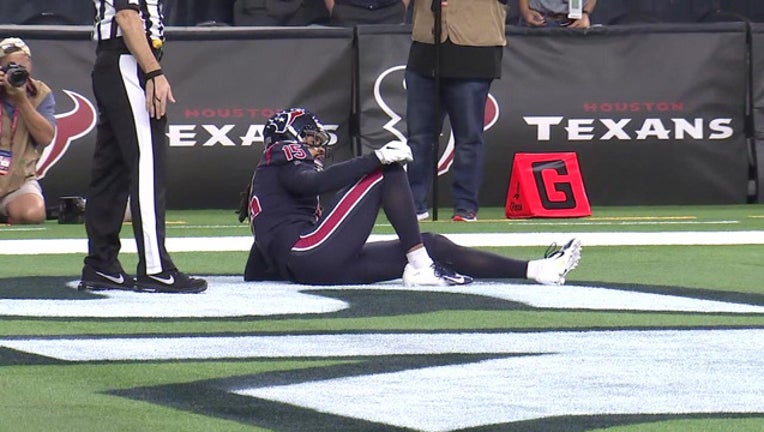 article
HOUSTON (AP) - Texans receiver Will Fuller V has a torn knee ligament and will miss the rest of the season, a big blow to a team that has won five in a row and is coming off a high-scoring victory.
He was injured during the fourth quarter Thursday night against Miami when he became entangled with a defender and tumbled to the ground.
Coach Bill O'Brien said Friday he doesn't know when Fuller will have surgery to repair the anterior cruciate ligament in his right knee.
"I'm very disappointed for Will because Will's a great guy," O'Brien said. "He's really been playing at a high level."
Fuller had a season-high 124 yards receiving with a 73-yard touchdown on Thursday before the injury. He had 503 yards receiving and four touchdowns in seven games this season. The third-year player was a first-round pick in 2016.
The Texans ran up a season-high 42 points against the Dolphins and have recovered from their 0-3 start to the season. At 5-3, they are leading the AFC South.
"If you go through every team, everybody's dealing with injuries," O'Brien said. "It's such a cliche, but the coaching staff, the players, we all have to pitch in and figure it out and figure out how we're going to construct the offense. And maybe some things will be the same and maybe some things will be a little bit different."
The loss of Fuller is the latest setback for a team which played without receiver Keke Coutee on Thursday night. The rookie, a fourth-round pick, injured his hamstring last Sunday against Jacksonville after missing the first three games of the season with a different hamstring injury.
Since Houston doesn't play again until a trip to Denver on Nov. 4, there is a possibility that Coutee will be healthy by then.
"We'll see where he's at ... he's a guy who had been playing well for us, and hopefully he can come back at some point," O'Brien said.
Coutee has 21 receptions for 196 yards and a touchdown this season.
"Keke's a very versatile guy," O'Brien said. "You've seen us put him in the backfield. He's played on the outside and obviously he plays on the inside. So he's got versatility. A little bit different than Will, no doubt about it. Every guy's different. But he does a lot of (good) things."
With Fuller out, the Texans could look for increased production from Sammie Coates and Vyncint Smith or get their running backs and tight ends more involved in the passing game.
O'Brien also didn't rule out the possibility of the Texans signing a player to help fill in.
"I know there's guys in the locker room that can do certain things," O'Brien said. "Obviously if they could do them like Will, they would have been out there like Will. But there's definitely guys who can do some things. We've got a lot of good players in that locker room."
___
More AP NFL: https://apnews.com/NFL and https://twitter.com/AP_NFL