Rockets trade Michael Beasley to Bucks for Tyler Ennis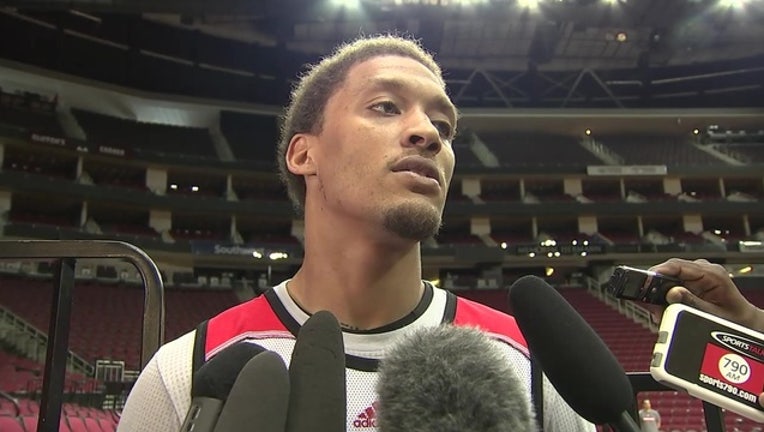 article
HOUSTON (FOX 26) - Houston Rockets general manager Daryl Morey announced on Thursday that the team has acquired guard Tyler Ennis from the Milwaukee Bucks in exchange for forward Michael Beasley.
Ennis (6-3, 194) was an early entry candidate for the 2014 NBA Draft following his freshman season at Syracuse and was selected 18th overall by Phoenix.  He was acquired by the Bucks midway through his rookie season.  Ennis was born in Brampton, Ontario outside of Toronto and is a member of the Canadian National Team.
"Excitement, to go to a team with a superstar player, a team that's been in the playoffs, you can't ask for much more than an opportunity and that's what I have here," described Ennis in an interview with FOX 26 Sports.
Last season, Ennis appeared in 46 games with seven starts for the Bucks.  Over the final 18 games, he averaged 7.6 points, 3.7 assists and 2.8 rebounds in just 23.6 minutes per game while shooting 48.3% from the floor.  For the season, Ennis ranked fourth in assists per 48 minutes played among players 21 or younger.
"Just a guy who's going to come in and make others better," said Ennis. "That's what I'm being brought in to do and that's what I'm going to do -- just get out there, get guys open shots, get guys easy baskets."
Ennis says he's excited to play for Rockets coach Mike D'Antoni. "Being a Canadian and a big Steve Nash fan growing up, I'm excited to get there and get to know him," Ennis said. "If I can get a portion of what Steve did with him in his offense, then I think I'll be good."
He expressed equal enthusiasm about playing with James Harden. "A superstar that averages seven assists a game, that's not something you come by every day. I'm happy to get out there, get some chemistry and get things going."
Following his freshman season with the Orange, Ennis was named USA Today All-America Second Team.  He ranked sixth in the nation, and first among freshman, with a 3.60 assist-to-turnover ratio, and led the ACC in both assists and steals.
Beasley (6-9 ½, 235) signed as a free agent with the Rockets on March 4, 2016 and appeared in 20 games over the remainder of the season.