Rockets land Chris Paul in blockbuster trade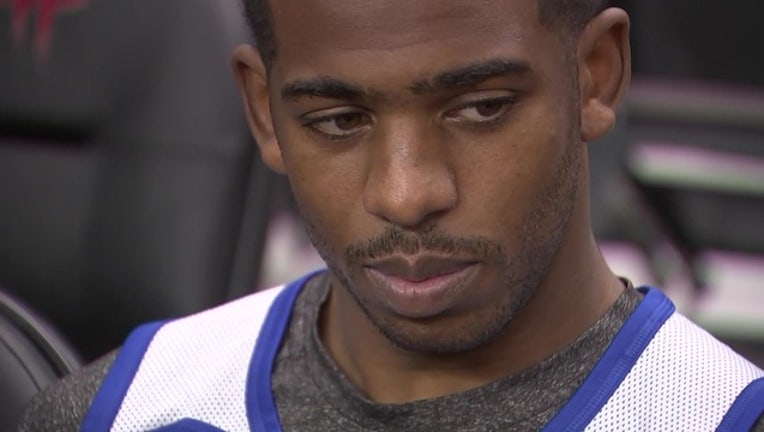 article
HOUSTON (FOX 26) - Houston Rockets general manager Daryl Morey has announced that the team has pulled off a blockbuster trade with the Clippers, landing NBA All-Star guard Chris Paul.
The Rockets send the Clippers guards Patrick Beverley, Lou Williams, Darrun Hilliard and DeAndre Liggins, forwards Sam Dekker and Montrezl Harrell, a first-round draft pick in 2018 and cash considerations.
"I'm excited to see what L.A. holds," Dekker said in an interview with FOX 26 Sports. "It's a shock. Thanks to Houston for everything they've done for me in giving me a shot. Now we attack a new venture, and I'm excited for it."
"Since winning back-to-back championships, the pursuit of a third title has remained the ultimate goal for our franchise," said Rockets owner Leslie Alexander.  "We feel that combining two of the league's greatest players in James Harden and Chris Paul, operating in Coach D'Antoni's system, gives us a championship caliber team that will compete at the highest level for years to come.

"On behalf of the Rockets organization and our fans I'd also like to thank Sam, Montrezl, Kyle, and Lou for helping make this past season a special one.  I'd also like to personally express my deepest gratitude to Pat Beverley, who, for the past five seasons, always left everything he had out on the court."
During his NBA career, Paul has started all 834 of his games played, while averaging 18.7 points, 9.9 assists, 4.4 rebounds and 2.29 steals while shooting 47.3 percent from the floor, 37 percent from 3-point range, and 86.6 percent from the free throw line with an assist-to-turnover ratio of 4.08.  He is the only player in NBA history with career averages of at least 19.0 points, 9.0 assists, 4.0 rebounds and 2.00 steals.  There are only three other players in NBA history with career averages of at least 19.0 points, 9.0 assists and 4.0 rebounds.
The Rockets completed the following five separate transactions with the Atlanta Hawks, Dallas Mavericks, Detroit Pistons, Philadelphia 76ers and Portland Trail Blazers to facilitate the trade for Paul:
Rockets acquired forward Ryan Kelly from the Hawks in exchange for cash considerations
Rockets acquired guard DeAndre Liggins from the Mavericks in exchange for cash considerations
Rockets acquired guard Darrun Hilliard from the Pistons in exchange for cash considerations
Rockets acquired forward Shawn Long from the 76ers in exchange for a future second round pick and cash considerations
Rockets acquired guard Tim Quarterman from the Trail Blazers in exchange for cash considerations