Rockets beat Hawks 118-99 for 60th win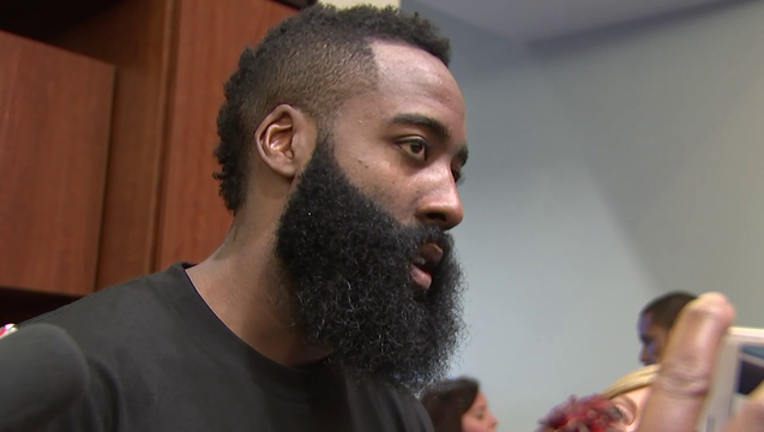 HOUSTON (AP) - James Harden had a triple-double with 18 points, 15 assists and 10 rebounds in three quarters and the Houston Rockets rolled to their 60th victory, beating the Atlanta Hawks 118-99 on Sunday night.
It was the second straight game where the Rockets never trailed after a rout of New Orleans on Saturday night that set a franchise record for wins in a season.
The NBA-leading Rockets have won nine straight and became the 18th team in NBA history to reach 60 wins in the 74th game of the season.
Houston was up by 24 at halftime and the Hawks cut into the lead with a solid third quarter, but never really threatened, allowing Harden to watch the final quarter from the bench for the second night in a row.
Taurean Prince scored 28 and Isaiah Taylor had 26 for the Hawks, who have lost three in a row and nine of their last 10.
Harden, who had 12 assists by halftime, had his fourth triple-double this season and the 35th of his career.
Gerald Green had 25 points, and Eric Gordon added 22 for the Rockets with Chris Paul out for the third straight game with a sore left hamstring.
Atlanta got within 16 after four straight points by Taylor midway through the fourth, but Green hit a 3-pointer seconds later to push Houston's lead to 108-89.
The Rockets led 25 after a 3-pointer by Gordon early in the third quarter when the Hawks went on a 7-2 run to cut the lead to 74-54 with about 8 1/2 minutes left in the period.
The Hawks used a 15-6 spurt later in the third to get within 85-71 with about two minutes remaining in the quarter. Prince had five points in that span and capped the run with a 3-pointer.
But Houston used a 9-3 run to wrap up the quarter and take a 94-74 lead into the fourth quarter. Harden scored four points in that stretch and found Green for a 3-pointer to cap it.
The Rockets raced out to an 11-5 lead early and were up 33-20 at the end of the first quarter.
Houston led by 10 early in the second quarter before scoring the next 11 points, with eight from Green, to make it 44-23 eight minutes before halftime.
The Rockets didn't let up after that, leading 69-45 at halftime.
TIP-INS
Hawks: Dennis Schroder missed the game with a sprained right ankle. ... John Collins finished with 10 rebounds. ... DeAndre' Bembry sat out with an abdominal strain.
Rockets: Ryan Anderson got a night off to rest. ... Coach Mike D'Antoni said Paul could have played if it were the playoffs and that he should return on Tuesday. ... With 20 3-pointers on Sunday, the Rockets have made 15 or more in five of their last six games.
UP NEXT
Hawks: At Minnesota on Wednesday night.
Rockets: Host Chicago on Tuesday night.