Olympic champ Biles triumphs in return to competition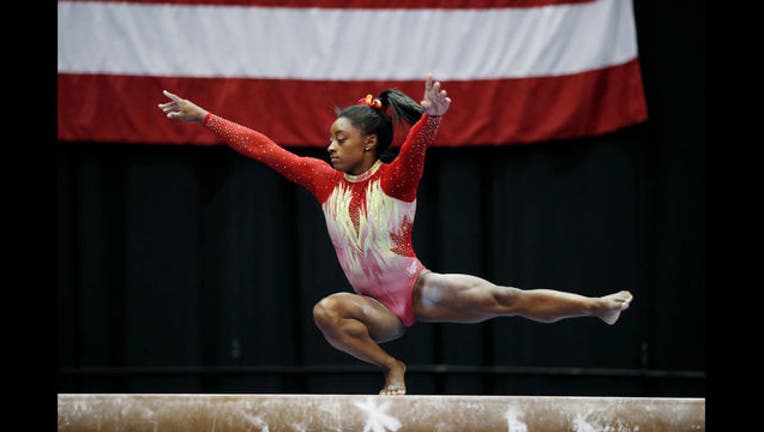 article
COLUMBUS, Ohio (AP) - The jitters were obvious and unmistakable. A step out of bounds on floor exercise. A hop back on vault. An uncharacteristic slip off the uneven bars.
Simone Biles needed them. Maybe deep down, the Olympic gymnastics champion wanted them too, if only to help her figure out whether she was truly mentally ready to return to the sport she's dominated for a half-decade.
The answer came before her balance beam set during the U.S. Classic on Saturday night when Biles found herself in second place heading into the final rotation after a sloppy uneven bars set.
Needing to score at least a 14.0 to avoid losing a meet for the first time in five years, Biles wasn't focused on the pressure of living up to her own remarkable legacy. She was too busy being mad. And here's the thing: she kind of liked it.
"I guess in that moment, I enjoyed being (ticked) off, yeah," Biles said with a laugh.
It showed. Displaying the form that helped her make history at the 2016 Summer Games, the 21-year-old drilled a 15.2 to post an all-around score of 58.700, more than a point ahead of Riley McCusker and more than two points clear of reigning world champion Morgan Hurd.
The unbeaten streak is still alive. So is the gap between Biles and the rest of the world. Even after a 711-day layoff. Even after switching coaches. Even after growing up a bit. In the sport she's come to define, there remains Biles and everyone else.
The proof came over the course of two hours when she posted the highest scores on vault (15.4), floor exercise (14.75, beam (15.2) and all-around in the world in 2018.
"There's still a lot to work on - work on the nerves, work on the consistency, work on the landings - but for this point, at this time in the year, I think we're in a pretty good place," Biles said.
Or at the very least, a place no one else on the planet can get to at the moment. The scary part may be how many points Biles left out there. She won by 1.2 points even with major deductions on three events.
"It's great to see that she still has it inside of her," said Laurent Landi, who serves as Biles' co-coach along with his wife Cecile. "Now she needs to build on this and to take all the positives out of it."
Biles admitted even she was curious how she'd respond in her return to competition following a two-year break following her staggering haul in Rio de Janeiro, when she tied an Olympic record by collecting five medals - four of them gold - that cemented her status as one of the best gymnasts ever. All before her 20th birthday.
She spent a year basking in the afterglow, enjoying - but not overindulging in - her newfound fame. She hit all the usual post-Olympic notes, doing some reality TV, publishing a book and traveling. She became more comfortable in her own skin, moved into an apartment and got a boyfriend.
There was never any really set timetable on when she might return, but she took her first tentative steps in her comeback late last summer. Things got serious when she hired the Landis as her new coaches last fall, intent not to simply recapture the form that captivated the 2016 Olympics but to push herself and her sport forward.
Things came together quickly. So quickly Biles entered all four events in Columbus and said matter-of-factly on Friday that she believes she's already ahead of where she was when she starred in Rio.
Yet all that confidence couldn't provide a true sense of calm. The adrenaline got to her more than once. It's why she sailed out of bounds on her first tumbling pass on floor and couldn't quite rein in her Cheng vault.
"It's kind of hard to hold back," Biles said.
And in the end, she didn't.
She stressed uneven bars is where she's made the biggest strides under Landi, hoping to turn her weakest event into a strength. Her right foot caught, however, early in her routine and she hopped down to the mat before receiving a brief pep talk from Landi. She popped back up and finished without so much as a wobble but her 13.50 put her behind McCusker heading to balance beam.
Despite her anger, she also found a sense of calm as all the old familiar feelings came back.
It's not unusual for her to go last. It's not unusual for her to know exactly what score she needs to win. It's not unusual for her to deliver. These are - as the hashtag that resurfaced on Twitter reminded those who may have forgotten - #SimoneThings.
And it's just the beginning. The 2020 Olympics are still two years off. Biles sent a message to the rest of the world in her return that she's not coming back to the field. It's up to everyone else to catch her.