McHugh, White help Astros beat Mariners 5-1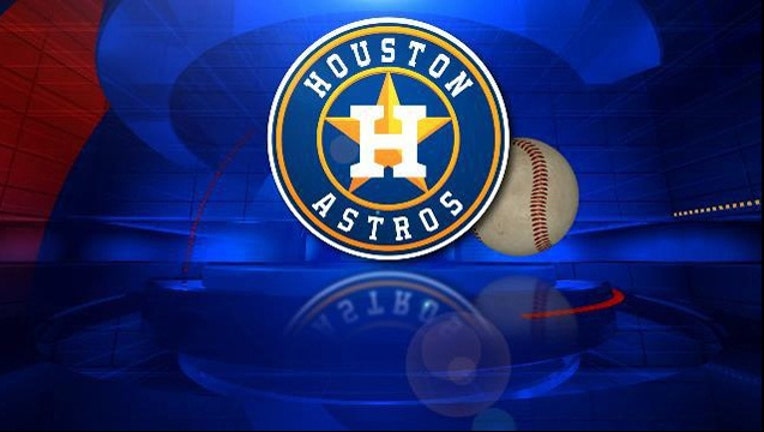 article
HOUSTON (AP) - Rookie Tyler White hit five home runs in his first 15 games before falling into a slump that he's just starting to break out of, collecting two hits in each of the past two games.
Houston manager A.J. Hinch thinks his early home run success may have actually hurt him in the last few weeks.
"He hit those home runs early in his career and it might have derailed him a little bit getting the ball airborne just a touch too much," Hinch said. "Now a couple line-drive base hits and some balls low that have got him back in the strike zone, lowered his eyesight a little bit in the strike zone to do some damage."
White hit two doubles and drove in a run to back up seven solid innings by Collin McHugh, and the Astros got a 5-1 victory over the Seattle Mariners on Sunday.
White, who snapped an 0-for-16 skid on Thursday, hadn't had more than one hit in a game since April 11, until Saturday. He put Houston up 1-0 with his double in the second inning and added a double in the fourth.
"I worked hard to try to get back," White said. "I hadn't had a bad stretch like that in a while. So mentally it was tough on me and physically as well there were a couple of thing off."
The Astros added two runs in the third and tacked on two more in the seventh.
McHugh (4-3) allowed five hits and one run for his third straight win.
"Collin was as in control of this game as any of our starting pitchers have been this entire season," Hinch said.
Jose Altuve had two hits and tied a career-high with three stolen bases on a day the Astros finished with five.
Robinson Cano continued his tear against the Astros with a solo homer in the fourth that gave him five homers and 17 RBIs in seven games against Houston this season.
Aside from Cano's homer, the Mariners didn't do much on offense with the rest of the team combining for four hits.
"McHugh kept us off-balance most of the game, did a good job," Seattle manager Scott Servais said.
Cano leads the American league with 12 homers and his 33 RBIs lead the majors.
Seattle starter Hisashi Iwakuma (1-4) yielded seven hits and three runs with eight strikeouts in five innings.
Luis Valbuena doubled with two outs in the second and scored on a ground-rule double by White to make it 1-0.
Altuve singled with one out in the third before stealing both second and third base before Carlos Correa drew a walk with two outs. He stole second base before a bunt single by Colby Rasmus scored Altuve to push the lead to 2-0.
A single by Marwin Gonzalez, who finished with two hits, sent another run home before Valbuena struck out to end the inning.
McHugh had retired nine of his first 11 batters when Cano launched one into the seats in left field to start the fourth and cut the lead to 3-1.
Altuve singled to start the seventh, stole second base and reached third on an error by catcher Steve Clevenger. Houston extended its lead to 4-1 when Springer reached on an error by shortstop Ketel Marte that allowed Altuve to score. Springer stole second and scored on a single by Correa to make it 5-1.
TRAINER'S ROOM
Astros: RHP Lance McCullers (right shoulder soreness) struck out seven in five scoreless innings of his first rehabilitation start for Triple-A Fresno on Saturday night. Hinch said they will see how he responds over the next couple of days before they decide if he needs another start in the minors or if he can join them on their upcoming road trip, which begins Thursday.
UP NEXT
Mariners: Felix Hernandez (2-2, 2.21) will make his seventh start this season on Monday against Tampa Bay. Hernandez is coming off his shortest start of the season where he did not factor in the decision after allowing nine hits and eight runs in four innings of a 9-8 win over Oakland.
Astros: Mike Fiers (2-1, 5.35) also looks to bounce back from his shortest start of the season when he pitches in the opener of a three-game series against Cleveland. He allowed nine hits and four runs in a 16-4 win over the Twins, but did not factor in the decision after lasting just 4 2/3 innings.