Kristin Vesely named Houston Cougars softball head coach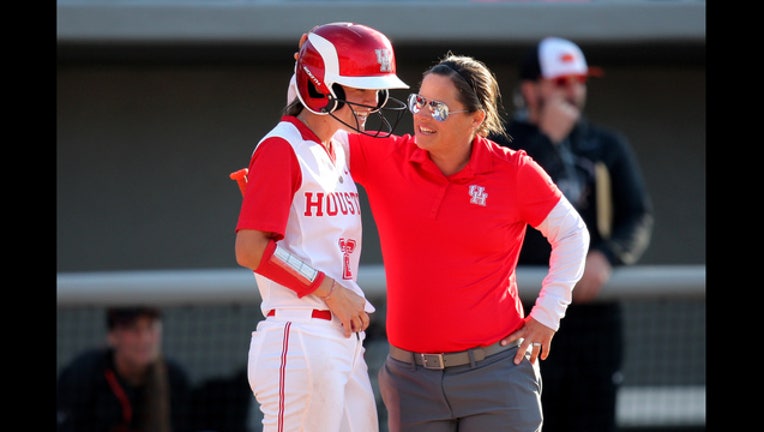 article
HOUSTON (FOX 26) - After six seasons of developing talent and extensive Texas recruiting ties as a member of the University of Houston softball staff, Kristin Vesely has been named the second head coach in the program's history, UH vice president for athletics Hunter Yurachek announced on Friday morning.
Vesely originally joined the Houston family in 2011 as the Cougars' assistant coach before being promoted to associate head coach in 2014.
"This is a huge accomplishment in my life and fulfills one of my biggest goals that I have aspired to reach ever since falling in love with the game at an early age," said Vesely. "This achievement means so much to me in the fact of having the ability to establish a new tradition and a new history to an already great program.
"When people watch the University of Houston, they are going to see a team that is passionate about the game, our University and our city. They are also going to see a team that plays extremely aggressive as it will be a team that is predicated on being mentally and physically tough. I cannot thank Hunter Yurachek and DeJuena Chizer enough for this opportunity and look forward to building Champions for Life with this exceptional program."
Vesely has guided the Cougar Offense to some of the best hitting statistics in the program's 16-year lifespan. In her six seasons, the Cougars have averaged 431 hits per season while her leadership has also led to 284 home runs and 3,916 total bases in the six-year stretch.
"Following an exhaustive national search that took us from coast-to-coast, it was determined with great conviction that the best person to lead our softball program into the future was in our own backyard," said Yurachek. "Kristin is a talented individual and well respected throughout the college softball world. She has an incredible vision for the future of our softball program combined with a strong work ethic. I look forward to watching our student-athletes develop and compete under her leadership."
Vesely coached centerfielder Katie St. Pierre (2013-16) to two career school records offensively, on-base percentage (.459) and stolen bases (64). St. Pierre was a two-time NFCA All-Region selection and four-time all-conference player under Vesely's direction. St. Pierre ranked in the top 10 nationally with her .457 on-base percentage last season.
In 2016, she tutored three freshmen - Elise LeBeouf, Savannah Heebner and Maya Thomas - to All-American Athletic Conference honors and spots on The American's All-Rookie First Team. Heebner was the first unanimous The American's All-Conference First Team selection while Thomas was transformed into a top-notch slapper and tallied 48 bunt singles. Through Vesely's hitting techniques, LeBeouf was one of the Cougars best hitters with a 76 percent RBI-to-hit ratio.
In 2015, Vesely's offense recorded the second-lowest strikeout total as a team (193). Under her guidance, shortstop Selena Hernandez ranked second in the nation for toughest to strikeout as she posted only four strikeouts during the entire season. Hernandez was named to The American's All-Conference team. She also helped Julana Shrum to her best season at the plate. Shrum posted a .302 batting average with 10 home runs and 31 RBIs.
In 2014, her batters knocked in runs 60 percent of the time when recording a hit, the highest RBI-to-hit ratio in program history.
Vesely has coached several players to national prominence including an NFCA All-American, 10 NFCA All-Region team members, two Conference USA Players of the Year and 23 All-Conference players.
The Phoenix, Ariz., native shares plenty of elite softball experience with the team. A USA Player of the Year semifinalist during her junior season and a quarterfinalist during her senior campaign at the University of Oklahoma, Vesely has a wide selection of stories to draw from.
The Sooners all-time hits leader (293) started all but four games in the outfield during her career and chipped in a couple of spot starts behind the plate during her freshman year in Norman, Okla. She was named to the All-Big 12 team in each of her four years and was an NFCA All-American her last two seasons.
Her role with the Cougars as the hitting and outfield coach was backed by her strong resume in both aspects of the game. Vesely held a 73-game errorless streak that stretched from her junior to senior seasons, and the 97 hits she recorded as a junior still stands as the most in a single season by any Big 12 player.
During the 2014 season, Vesely coached senior Haley Outon and St. Pierre to NFCA All-Region Honors. Outon went on to receive NFCA All-America honors, breaking several home run records in the process for the Cougars.
In 2013, Vesely helped guide Outon to Conference USA Player of the Year honors after the catcher belted a league-leading 15 home runs and 60 RBI. Outon also led the league in slugging percentage (.731) and walks (41) as she set a school record for a single-season to show balance between her power and patience. Holly Anderson combined with Outon to give Houston a powerful 1-2 punch in the lineup as she paced C-USA in batting average (.374) and doubles (15) while ranking second behind Outon in home runs and RBI. Both student-athletes earned NFCA All-Region honors for the second straight year while St. Pierre, then just a freshman, joined them on the award platform. All three earned First Team honors from C-USA as Houston led in 12 offensive categories.
Vesely imparted some of her wisdom in helping Outon smash 22 home runs and 64 RBIs en route to being an NFCA All-American in 2012, setting both school records in the process.
Outon, Anderson and Melissa Gregson were all First Team C-USA honorees following their strong performances at the place in 2012.
Aside from being one of the most decorated players in Oklahoma's storied softball program, Vesely competed all four years on the Sooners' soccer team, as well. She helped guide the Sooners to its best start in program history, as they posted an 11-1 record to open her senior season en route to earning a Big 12 Tournament berth.
Following the completion of her collegiate career, the New England Riptide took Vesely in the first round of the National Pro Fastpitch (NPF) 2006 College Player Draft. The fourth-overall selection played professionally for the organization for one season.
Following her playing days, Vesely got her start in coaching. She returned to Oklahoma to coach the Oklahoma Twisters, an under-14 traveling softball team. After three years of working with younger players, Vesely coached the Blanchard High School squad to a 24-3 record in 2010.
"I am very excited and proud of Kristin Vesely," said University of Oklahoma Sooners softball head coach Patty Gasso "Having coached her at Oklahoma and knowing what type of fierce competitor she is, I know she is the right fit for the University of Houston. She is gritty, an extremely hard worker and she knows the game. Her passion for the sport and her intensity will show through recruiting and preparation while her commitment to the game will benefit student-athlete development on and off the field."
"I'm excited for Kristin and the University of Houston," Texas A&M Aggies softball head coach Jo Evans. "She's a hard worker, very ambitious and loves the game. Having coached against her as a player and now as a coach, I know she's an intense competitor and has that fire in the belly that you want in a coach."
"Kristin Vesely was a fantastic player when I coached her,"  said UNLV softball head coach and former USA Softball assistant coach Lisa Dodd. "The transition from player to assistant coach to now head coach has been great for her. Her competitiveness and energy is exciting to watch and coach against. She is great with her players, really helping to shape them for the future."
"This is a tremendous opportunity for Kristin," said Louisiana State University softball assistant coach and former USA Softball assistant coach Howard Dobson. "She's a great up-and-coming coach and was a phenomenal player for us (Oklahoma & Team USA). She is one that knows the game very well and is a great person on and off the field. I'm really happy and excited for her."